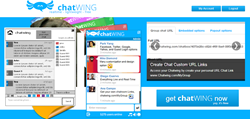 New York, NY (PRWEB) January 01, 2014
As the holiday season is fast approaching, the Chatwing Team has received several requests for holiday-themed chatrooms. The requests came from people who want to avail premium widgets for optimum chatting experience.
The first batch of the holiday chat software chatrooms will have different mixtures of yuletide designs—all of them featuring lively colours. The pre-made chatrooms will have varying prices, but the Chatwing developers ensured that the widgets are budget-friendly. There is still no definite number of the planned holiday widgets, but some online moderators are expecting the number to be around 50.
"The holiday chatrooms allow our users to feel the spirit of Christmas even in website chat," says Mike Diamond. He is one of the concept creators for the holiday website chat room initiative. "We also tweaked the performance levels of those chatrooms so that our premium users will get the best out of their payments. However, we also have new treats for our regular users. We improved the widget's social networking options, and they can expect for more background themes."
Aside from creating a holiday initiative, Chatwing Team is also making a presence in several forums and online portals. This presence is maintained by Chatwing's group of moderators, through the continuous relay of online tips and trends. Currently, Chatwing moderators are exploring different niches such as business, sports, finance, gaming, app development, social news, and many more.
Chatwing.com will have more developments to the live chat app in the coming months. These developments will ensure that users can have efficient online communication all the time.
About Chatwing.com
Chatwing.com is a company that has brought innovation to the modern chat widget. Operating for more than five years now, Chatwing and its team of developers have dozens of ideas ready to be introduced to the public. The Chatwing chat app is an easy-to-use online tool that can help web users interact with each other and can also generate continuous traffic. Chatwing will always be a "freemium" application for everyone.