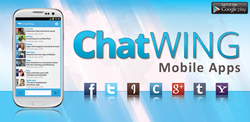 Seattle, WA (PRWEB) January 02, 2014
Chatwing Live is moving up on the widget ladder with its array of flexible and affordable premium services. Through these services, web users can have greater control over their chatrooms. Apart from that, the premium services can help these users in making new friends and contacts. The latest strategic move of Chatwing developers is to enhance the premium transactions.
"We are receiving tons of premium requests from our chat software users," Says Mike Diamond. He is a part of the Chatwing Team for more than four years. "There are times when we encountered lags because of these requests, so we have decided to improve the platform. Now, premium users can purchase the services they want at top-rate speed. Payment methods were also improved and users need not to worry about security."
The popular premium services of Chatwing widget are custom subheader, custom logo, secure socket layer, social sharing removal, and increased avatars. Every now and then, the company is also offering chat room software creation services so users can save more time. The chatrooms created are guaranteed to have efficient performance and social networking capabilities. Blog and website monitoring services are also being offered monthly.
The Chatwing springboard is always full of ideas that are constantly challenged by the developers. These ideas, once approved, can reach clients and users within a short period. Users who want to know more about the live chat app can visit Chatwing's main website and blog.
About Chatwing.com
Chatwing.com is a company that has brought innovation to the modern chat widget. Operating for more than five years now, Chatwing and its team of developers have dozens of ideas ready to be introduced to the public. The Chatwing chat app is an easy-to-use online tool that can help web users interact with each other and can also generate continuous traffic. Chatwing will always be a "freemium" application for everyone.