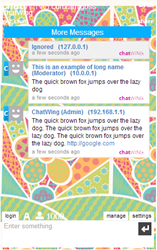 New York, NY (PRWEB) January 04, 2014
As Chatwing's array of blog expansion strategies buzzed over, the company is up for new initiatives. Recently, Chatwing chat app developers are observing the height of PC and console gaming communities. In line with this, the developers are now searching for gamers who are interested in sharing their knowledge through the help of Chatwing chat rooms. The gamer-moderators can focus on these important points:

The hottest games. Based on Chatwing's online analysis, games spark hundreds—if not thousands—of discussion points across the cyberspace. One vital reason is the speed of data relay in websites, forums, and online portals. Interested moderators can share information about the hottest games around—they can also share tips and gaming experience.
Game paraphernalia. Gaming gear and collectibles are also trending topics and they never stray far from the popularity radar. This is according to online studies done by game experts. Chat box moderators can discuss gaming paraphernalia, as well as the related costs and merchant information. The Chatwing chat software tool also provides an opportunity for people to buy and sell gaming products.
The latest gaming news. With gaming communities growing, the Chatwing Team encourages the moderators to share any scoops that they can find about games. In this way, the moderators can provide essential help to aspiring gamers. Chatwing chat box can also support this goal due to its wide array of social media and communication options.
The moderators who will be selected by Chatwing will get the chance to receive prizes such as premium coins, extra services, and custom merchandise. Other mechanics will be posted in Chatwing's Facebook page.
About Chatwing.com
Chatwing.com is a company that has brought innovation to the modern chat widget. Operating for more than five years now, Chatwing and its team of developers have dozens of ideas ready to be introduced to the public. The Chatwing chat app is an easy-to-use online tool that can help web users interact with each other and can also generate continuous traffic. Chatwing will always be a "freemium" application for everyone.