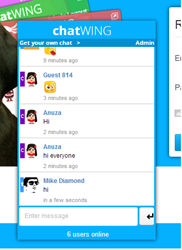 New York, NY (PRWEB) January 05, 2014
Chat Wing is now offering a professional and flexible tool that can help gamers discuss their favourite games and walkthroughs. Aside from game discussions, the Chatwing chat software tool can be used for social networking, web marketing, and spreading advocacies.
Social networkers can rely on Chatwing's embeddable tool because of its different login methods. Chatroom visitors can choose from Facebook, Twitter, Google, Yahoo, Tumblr, and Instagram login options. With these choices, social networking becomes an easy thing to do. Gamers can also extend their discussions in the social media arena with the help of the Chatwing chat box.
Embedding the chatroom tool is also a beneficial thing to do, especially for bloggers. If embedded, the Chatwing widget will provide an online lounge wherein visitors can share their thoughts about interesting topics. As Chatwing chat box developers observed, most visitors relied on the chatrooms in order to reach their respective online goals. Game bloggers can use the embeddable chatroom to grow their subscriber base.
Chatwing has also improved the customization function of the widgets. Once registered, users can tinker with different functions to achieve the chatroom preferences that they want. Some bloggers who reviewed the Chatwing chat app attested that their blogs' traffic rate has increased by up to 50%. The percentage varies depending on the content and niche covered by the blog.
Chatwing chat software will have more features and custom widgets available, not just for gamers, but for all web users from different niches. These features will be introduced during the early months of the year 2014.
About Chatwing.com
Chatwing.com is a company that has brought innovation to the modern chat widget. Operating for more than five years now, Chatwing and its team of developers have dozens of ideas ready to be introduced to the public. The Chatwing chat app is an easy-to-use online tool that can help web users interact with each other and can also generate continuous traffic. Chatwing will always be a "freemium" application for everyone.