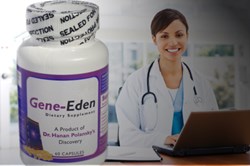 We suggest that diabetes patients speak to their doctors about Gene-Eden-VIR. - Mike Evans, polyDNA
Rochester, NY (PRWEB) January 02, 2014
A study discovered that diabetes patients complain of severe fatigue. The study linked their fatigue to sleep disturbances such as obstructive sleep apnea (OSA) (1). In addition, the study discovered that this fatigue has a negative effect on the patient's disease management. "The authors correctly suggested that fatigue may have profound negative implications in persons with diabetes because of the effort required for self-management of this chronic disease (1)." polyDNA recommends that these patients take Gene-Eden-VIR, a natural product that was clinically proven to reduce general fatigue, physical fatigue, and mental fatigue in a study that followed FDA guidelines for clinical studies.
Study authors found that 86% of patients who were obese and who had type 2 diabetes also had "undiagnosed and untreated obstructive sleep apnea (1)." In addition, "OSA is associated with an increased risk for excessive daytime sleepiness, decreased functional outcomes, and decreased mood. These daytime symptoms can increase the risk of mental and physical fatigue among individuals with type 2 diabetes (1)."
Study authors also wrote that, "Other factors in persons with type 2 diabetes may place them at risk for fatigue. Obesity, a major risk factor for OSA, is an independent risk factor for sleepiness (1)."
"The bottom line is that individuals with type 2 diabetes are at increased risk for fatigue. We suggest that diabetes patients speak to their doctors about Gene-Eden-VIR. As the CBCD's clinical study said, 'healthcare practitioners should recommend Gene-Eden-VIR as a treatment against long-term fatigue, and specifically, against chronic fatigue." Mike Evans, polyDNA
A clinical study, conducted by scientists at the Center for the Biology of Chronic Disease, and which followed the FDA guidelines for clinical studies, showed that Gene-Eden-VIR safely and effectively decreases the feeling of fatigue in treated individuals. Specifically, the study found that the natural antiviral product decreased the feeling of general fatigue, the feeling of physical fatigue, and the feeling of mental fatigue (2). The abstract of the study was posted on the Center for the Biology of Chronic Disease website on December 28, 2013 ahead of publication.
To learn more about Gene-Eden-VIR, and how it reduces fatigue, visit http://gene-eden-kill-virus.com/decreases-fatigue.php. All orders of Gene-Eden-VIR are completely confidential, and no information is shared or sold to any third party. Privacy is assured.
References:
(1) Impaired sleep: a factor for fatigue in people with type 2 diabetes. Published in September 2013.
http://tde.sagepub.com/content/39/5/611.long
(2) Gene-Eden-VIR is Effective Against Fatigue: Results of a Post Marketing Clinical Study Conducted According to the FDA Guidelines. Page last updated on December 27, 2013.
http://cbcd.net/Gene-Eden-VIR-Decreases-Fatigue-Clinical-Study.php
polyDNA is a biotechnology company that develops dietary supplements using the unique scientific method developed by Dr. Hanan Polansky, which is based on Computer Intuition.
In addition to his unique scientific method, Dr. Polansky published the highly acclaimed scientific discovery, called Microcompetition with Foreign DNA. The discovery explains how foreign DNA fragments, and specifically, DNA of latent viruses, cause most major diseases.
polyDNA developed Gene-Eden-VIR, an antiviral natural remedy that helps the immune system kill latent viruses.