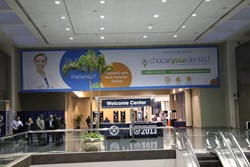 There is nothing more important to your confidence and self-esteem than a beautiful smile
Dallas, Texas (PRWEB) December 30, 2013
ChooseYourDentist.com, the online portal where dentists and patients connect, recently reminded dental patients that this is the time of year to review their dental insurance and find a California dentist for a January appointment. The website advised members who are in workplace dental plans that this is usually the time of year where they go through an open enrollment period. This allows participants to think about the dental insurance plan they have and decide if they are going to stay with it for another year. If things have gone well, participants will probably stay with their current dental plan, but it is still a good idea to compare it with other options to see what else is available. If there have been changes in their family or dental health during the year, members should make sure the dental plan still suits their needs.
Whether members are staying with their current dental plan or changing coverage, ChooseYourDentist.com says that this is also a great time to get the New Year off on the right foot by setting a January appointment with a dental professional. It recommends that people make a resolution to take better care of their health next year, starting with their oral health. The website also suggests that it might be time to find a cosmetic dentist in California who can help patients get the smile they have always wanted.
"There is nothing more important to your confidence and self-esteem than a beautiful smile," asserted ChooseYourDentist.com founder Feridoon Amini. "ChooseYourDentist.com helps to find a nearby cosmetic dentist who can help make that dream come true."
Because they are concerned with helping to improve the mouth's appearance, a cosmetic dentist might bleach or whiten any teeth that are stained or discolored, install veneers made of porcelain or composite materials, reshape teeth for a more uniform appearance, install a bonded bridge to replace a missing tooth, perform a gum lift to remove a portion of the gum and make the teeth appear longer, or install a dental implant or mini-dental implant to serve as an anchor for a crown or false teeth.
ChooseYourDentist.com helps people who are thinking about changing dentists or are interested in finding a cosmetic dentist in California. Interested dental patients just register with the website, search by geographic area or dental specialty, and use ChooseYourDentist.com to request a call or appointment.
About ChooseYourDentist.com: ChooseYourDentist.com is an online portal where patients and dentists connect. The site help patients find a dentist who can meet the oral care needs for their whole family. Further information on ChooseYourDentist.com may be found at http://www.ChooseYourDentist.com, by calling 1-888-I-CHOOSE, or by email at info(at)ChooseYourDentist(dot)com.