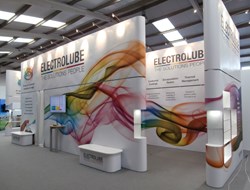 These latest additions to the library feature some of Quadrant2Design's most recent work.
Poole, Bournemouth, Dorset (PRWEB UK) 30 January 2014
UK based exhibition stand designers Quadrant2Design have added an additional 300 new designs to their online 'free library resource' of exhibition design ideas.
These latest additions to the library feature some of Quadrant2Design's most recent work, and will prove to be an interesting resource for anyone involved in exhibition design, or who is in need of new exhibition, retail or mobile marketing ideas.
All of the designs were created in the Prestige Events System, Quadrant2Design's exclusive Swiss-designed event solution.
Exhibition stands created in Prestige are extremely distinctive; featuring seamless-effect panoramic graphic walling, with no visible metal poles or beams.
Into this graphic landscape are brightly lit product display showcases and large-format digital presentations. The overall effect is a seamless looking structure -visually exciting, yet extremely functional.
The Prestige System is both a scalable and highly modular exhibition stand system. It's extremely cost-effective (especially over multiple events), where its ability to reconfigure for different stand sizes enables a much greater return on investment than with other 'single-use' modular exhibition solutions.
Designers will appreciate that Prestige is not just an exhibition solution; Prestige is also widely used for popup shop projects, retail displays, conference sets, product launch and showroom displays.
In fact, the Prestige Events System is ideal anywhere where strong branding, graphic impact, showcases and digital screens are required in one integrated display.
In particular graphic designers, especially in the Events Industry, will find that the wide panoramic graphic walling available with Prestige essentially provides a huge canvas for large-format graphic innovation.
Quadrant2Design's exhibition design library can be used by anyone; but the company expects that some potential customers may wish to develop a design further to suit their needs. To develop ideas or to get a new bespoke design proposal, call 0044 (0)1202 650 333 or email designteam(at)quadrant2design(dot)com.