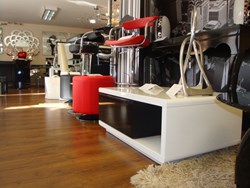 (PRWEB UK) 3 January 2014
Furniture In Fashion is all set with good news for the property developers as house prices are set to increase in the upcoming year, 2014. This is indeed valuable news for dealers who are planning to rent their places to prospective buyers. To increase the property value to another new level, Furniture In Fashion is offering top-notch products to a wide range of property dealers to make their place look more attractive. All the property dealers can gain huge profit with a hike in property renting services. To revive the UK economy, this is the best policy which can be taken at this point of time.
From the living room furniture to dining room products, Furniture In Fashion is going to offer different types of products to the property dealers, which will surely add good investment and return values. Moreover, this company has already made collaboration with different real estate agents like Hean Castle Estate, Clifton estates, Oaklands Estate Agent, Carnaby Industrial Estate and the list never seems to end. Furniture In Fashion has already started its business with nearly 700 real estate agents at present and the number is sure to increase in upcoming years. This is a vital venture for this company as it will surely increase its value and popularity, in this competitive and flexible market of the furniture industry.
The main aim of Furniture In Fashion is to furnish the apartments and rental places with premium quality products so that buyers can easily get attracted towards their properties. With the new range of furnishing items, Furniture In Fashion is all set to give both traditional and contemporary look to your places, without any hassle. Moreover, these products are manufactured using the finest quality raw materials, obtained from leading vendors around the world. Therefore, users can be rest assured about the quality and durable nature of the furniture. This collaboration is sure to provide an excellent profitable business deal for the real estate agents.
There are different types of products that real estate agents can avail from Furniture In Fashion, which will surely match with the interior décor of the place. Some such items are TV stands with LED lights, bar products, dining room furniture, hallway products, bathroom items, lighting services and more. Moreover, to make these products affordable, lucrative discount ranges are offered on various kinds of furnishing products. However, the buyers will get the golden opportunity to take free gifts by just entering into a fun filled competition.
Furniture In Fashion not only focuses on style, but on the comfort zone as well. All these products are manufactured by skilled craftsmen and are shipped from its German-based warehouse. To make the deal more affordable, free shipping services are offered anywhere in UK. Moreover, all these furnishing products can be availed from another big showroom of Furniture In Fashion, located in Bolton, UK. For detailed information on these products and some additional services, please check the official website at http://www.furnitureinfashion.net. You can also call them to get advices and tips on the best product, suited for your interior