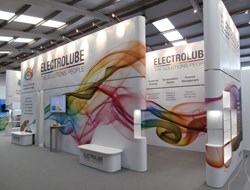 US exhibitors will also be pleased that Quadrant2Design's project managers are fluent in German, Polish and French.
Poole, Bournemouth, United Kingdom (PRWEB UK) 30 January 2014
Quadrant2Design have announced a new plan that will help US companies mount effective and creative trade show exhibits at European shows.
Called the 'International Exhibitors Plan,' it builds on Quadrant2Design's fourteen year record of successfully designing and building exhibition stands at German, French, Dutch, UK and Italian based trade shows.
The new plan draws together existing successful exhibition design, job and project management practice, into one easily understood package.
Users of the new plan will benefit from Quadrant2Design's huge experience at all the major European trade show venues, including London, Birmingham, Amsterdam, Paris, Dusseldorf, Munich, Cologne, Frankfurt and Nuremburg.
US exhibitors will also be pleased that Quadrant2Design's project managers are fluent in German, Polish and French, eliminating the strain for US based companies trying to communicate their needs to foreign contractors.
The plan also includes unlimited free-hire of Quadrant2Design's unique modular exhibition stand solution. This means that although clients pay normal, competitive costs for their exhibition graphics, and for the transport and installation of their stand, overall costs are significantly reduced.
So US based exhibitors at European trade shows no longer need to invest money into exhibition stand hardware they may only use once. Quadrant2Design will also store graphics for an entire year at no cost, making future European exhibiting even more cost-effective.
Quadrant2Design have developed over the years one of the most impressive set of quality procedures of any exhibition contractor in the United Kingdom. At the heart of these procedures, and of immense reassurance to overseas based clients, is the company's unique 'Exhibition Stand Pre-Build Guarantee.' This pre-build eliminates any potential quality issues before the actual 'real' build at the trade show venue.
Situated on Britain's South East Coast, Quadrant2Design are within a few hours' drive of the major UK trade show venues of Excel, Earls Court, Olympia and the NEC, and near to the ferry ports giving easy access to the European venues in Germany, France and Holland.
Quadrant2Design offer no-obligation design proposals and quotations. To talk to the company about new European tradeshow projects, call 0044 (0)1202 650 333 or email designteam(at)quadrant2design(dot)com.