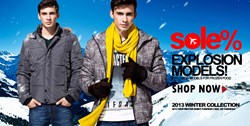 (PRWEB) January 02, 2014
Recently, Skmen.com, the famous company that is committed to providing worldwide customers with high quality clothes and pretty accessories, has released its exclusive collection of cheap iPhone 5 hard cases. Now, the company's website features hundreds of beautiful hard cases. What's more, the company offers low shipping fees for all new and old customers.
According to the CEO of the company, the special offer was launched to celebrate the coming of 2014. It will come to an end around January 20, 2014. In addition to the low prices, the first 50 consumers who register online at the company's online shop can get an extra discount for their orders.
"We are happy to announce our new cases. All of them are made from top materials and feature with stylish designs. They are well manufactured by the company's professional workers who have been working in the industry for years." The CEO says, "We aim to be a one–stop online shop and offer clients the most fashionable things. Moreover, Our top experts are developing new products."
It is true that Skmen.com works hard to create varous products to meet the different needs of worldwide clients. Most of its customers think that the company is offering perfect solutions to their requirements.
About Skmen.com
Skmen.com, a China-based company founded in 2009, is one of the leading suppliers of men's and women's high quality clothes. Also, it offers pretty cell phone accessories. The company has more than 5000 customers from every part of the world, helping the people develop self-esteem, confidence and love of learning.
For more details, readers can visit http://www.skmen.com/product-iphone-5-accessories-010001.aspx.