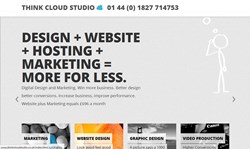 internet solutions industry has been made impossibly over complicated. It's not necessary to fully understand how services supplied work, as long as results are visible
(PRWEB) December 31, 2013
Warwickshire based Design & Marketing agency Think Cloud Studio launch KISS web design service for businesses in search for website and marketing service.
Having an established a client base since 1999 the design and marketing agency is expanding by keeping design and marketing simple. Marketing director Andrew Maynes states the internet solutions industry has been made impossibly over complicated. It's not necessary to fully understand how services supplied work, as long as results are visible. Too often businesses pay for services that fail to deliver results expected or worst experiment with free OS services that take too long to learn to use and fail to bring in new business. SEO for example is riddled with complications and just not a necessary part for most businesses day to day operational activities.
By launching the KISS design & marketing bundle as a managed solution Think Cloud Studio expects business owners to see an increase in new business and visible results without being hampered to learn about SEO or Code for websites.
Two businesses already seeing a difference in new customers have recently switched their website to a flat file html5 responsive framework provided by Twitter Bootstrap. Andrew Maynes claims "the old ways of creating websites are going to prove far more successful moving forward compared with using bulky OS platforms such as Wordpress and Drupal. Whilst we will continue to use the OS platforms our intention is to create tailored simple landing pages for businesses using clean fast HTML5. With our own proprietary systems built in to deliver messages across multiple social network platforms our new KISS 'design & marketing package' has high expectations for demand. The monthly bundled packages start from $450 per month. One special feature included in the cost, covers design for adwords and facebook banner ads. Having carried out extensive research over the last 2 years a service that includes designed banners specific to target audience is imperative for success, especially when our client is already using retargeting marketing for example."
For further information on the Think Cloud Studio's services please call 0845 3881071. Think Cloud Studio provide bespoke digital design & marketing services, which includes, design for print, design for garment and email marketing designs.