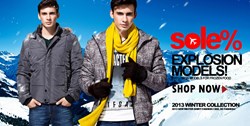 (PRWEB) January 04, 2014
Skmen.com is a reliable web shop of men's top quality clothes. Recently, the company has added a collection of 2014 men's trench coats to its product line and launched a special offer on these coats. Now, all these new items are offered at discounted prices, up to 42% off.
Skmen.com is a good place where consumers can find a wide variety of clothes at affordable prices. The company's new assortment of cheap men's trench coats comes in various fashionable colors and styles. They are specially designed to make worldwide gentle warm and handsome. Each of them is made from comfortable material.
"As everyone knows, January is a significant sales month. We announce the new range and launch the promotion to show our appreciation to worldwide clients. Also, we hope to receive public awareness. As a pioneer in the industry, we provide all new and old customers with a huge selection of products. If you are in need of cheap high quality clothes, please visit our store as soon as possible," the CEO of the company says.
Skmen.com is committed to providing exceptional customer service. Listed in its online category are various kinds of men's clothes, women's special occasion dresses as well as fashion accessories.
About Skmen.com
Skmen.com, a China-based company founded in 2009, is one of the leading suppliers of men's and women's high quality clothes. It has more than 5000 customers from every part of the world, helping the people develop self-esteem, confidence and love of learning. For more detailed information about Skmen.com and its various kinds of clothes, readers can visit http://www.skmen.com/product-men-s-trench-coats-009003004.aspx.