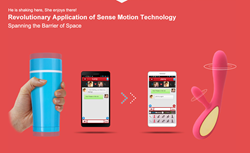 (PRWEB) December 31, 2013
In December 2013, a UK company EFEELINK launched a set of adult toys which can help separated lovers experience remote sex. The products have received a great response in the global market.
Ka Tsurumi, a female customer from Japan, said, "I receive hundreds of sex invitations through the EFEELINK app, KChat. My husband is always on business trips, and I love these high-tech sex toys."
Mark, a female user from Germany, comments, "I love this high-tech pleasure object, really. To achieve long-range interaction between two lovers, EFEELINK has made creative and innovative products. Thank you very much!"
It is known that EFEELINK products are divided into two parts: one is for men, the other is for women. Holding the appropriate internet enabled sex toys, two lovers can remote control each other. And with real-time HD video, they can enjoy intimate time face to face. They can have a strong sense of reality through the real-time HD video as well. In the process of using, the man just needs to increase the action; the woman, separated by thousands of miles, can feel a strong tremor. This happens as if the two lovers stayed together.
About EFEELINK
EFEELINK, a UK company, is devoted to designing and creating innovative adult products based on modern science and technology. The company wants to help its clients worldwide find the right high-quality products to meet their individual desires. Visit http://www.efeelink.com/ for more details.
Follow EFEELINK at:
Facebook: http://www.facebook.com/efeelink
Twitter: http://twitter.com/efeelink