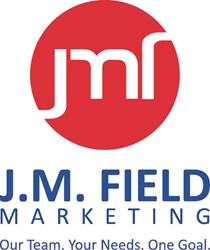 Fort Lauderdale, FL (PRWEB) December 30, 2013
J.M. Field Marketing is pleased to announce a year of record growth and continued expansion. This year, the South Florida based fulfillment and marketing firm has brought in new staff, increased their total warehousing space and reported an 8% revenue increase from 2012.
"We're excited to see J.M. Field Marketing continue to grow year after year because it allows us to welcome new staff members to our team," Robin Lane, Controller, said.
J.M. Field Marketing has been expanding steadily over the past year and in order to keep up with the needs of their clients, has brought in ten new staff members. Six of the staff members were hired for the Creative/Marketing Department, two for the Fulfillment Department and two for other departments. There are plans to continue hiring new staff throughout 2014.
Also as a result of client growth and new client acquisition, J.M. Field Marketing has also increased their warehouse space this year. With warehousing capabilities of now totaling over 205,000 square feet, J.M. Field Marketing now offers greater fulfillment capabilities as well as improved shipping services to their entire client list.
"We're the full-service marketing and fulfillment company for a number of large, international companies," Jack Field, founder of J.M. Field Marketing said. "We've always embraced the fact that when we help our clients become successful, their growth fuels our continued growth."
The continued client expansion is also in conjunction with the expansion of the integration possibilities of their proprietary inventory management system, All In View. This year, All In View has grown to seamlessly integrate with Ebay, OpenCart, Amazon and Magento this year. All In View was previously integrated with PrestaShop, Shopify, Limelight, Paypal, Shopatron, BigCommerce, ASP.net as well as many more.
If you want to learn more about J.M. Field Marketing's marketing and fulfillment services, please contact us at 954-523-1957.
About J.M. Field Marketing
J.M. Field Marketing offers a seamless integration of marketing solutions, from design and printed collateral to marketing materials, product fulfillment, web-based inventory management, data collection, inventory systems and call center services. The company's mission is to work as a direct extension of its clients' brand – providing the services every business needs to help increase revenue in today's competitive market. With over 205,000 square feet in storage capacity, J.M. Field Marketing's pick and pack services provide assistance and advantages to our clients in materials production, online order processing and web-based inventory management.
J.M. Field Marketing's clients include the banking industry, travel industry, entertainment industry, security industry, hair care products and more.