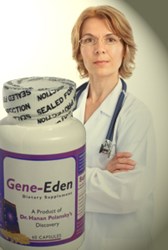 "If your child suffers from symptoms that could be attributed to CFS, you should talk to your child's pediatrician about Gene-Eden-VIR. This natural remedy was clinically proven to reduce symptoms in EBV infected individuals.– Mike Evans, polyDNA
Rochester, NY (PRWEB) January 04, 2014
A study found an association between an infection with the Epstein Barr Virus (EBV) infection and Chronic Fatigue Syndrome (CFS) in kids (2). The study was published on June 16, 2013 in the International Journal of Pediatrics. Study authors wrote that for these children, "Having a disabling condition like CFS in childhood and adolescence may pose major consequences regarding mental health, personal relationships, school attendance and participating in social life (2)." An article in Parenting and Child Health agreed. The authors of that article said that children 12 and under, "often have a gradual onset of symptoms so it might seem that they are 'not coping', or 'complaining' or 'lazy' rather than unwell (1)." polyDNA recognizes that CFS symptoms are very real, and recommends that parents ask the pediatrician about Gene-Eden-VIR. This natural EBV remedy was clinically proven to reduce viral symptoms in a study that followed FDA guidelines.
Over the past few years, healthcare professionals have identified a growing number of children with EBV infections that show symptoms of Chronic Fatigue Syndrome. As study authors noted "During the last years an increased focus on fatigue symptoms/syndrome among children has been observed, together with an increase in referrals to our hospital (2)." CFS in kids can be just as crippling as the syndrome is in adults. In fact, "Krilov et al. found that children and adolescents with chronic fatigue have a syndrome that is similar to that described in adults but that the syndrome presents earlier in the course of the illness (2)."
Interestingly, abnormalities in the immune system have been reported in CFS patients and study authors specifically noted that "Almost all patients reported a previous infection as the onset of fatigue symptom (2)." Moreover, "Almost all patients reported themselves to be previously healthy prior to their fatigue and also ascribed the onset due to an infection (2)."
The CDC says that "Chronic fatigue syndrome, or CFS, is a devastating and complex disorder. People with CFS have overwhelming fatigue and a host of other symptoms that are not improved by bed rest and that can get worse after physical activity or mental exertion. They often function at a substantially lower level of activity than they were capable of before they became ill (3)." The CDC's page was last reviewed on May 13, 2012.
"If your child suffers from symptoms that could be attributed to CFS, you should talk to your child's pediatrician about Gene-Eden-VIR. This natural remedy was clinically proven to reduce symptoms in EBV infected individuals." – Mike Evans, polyDNA
A study published on August 12, 2013 in the peer reviewed, medical journal Pharmacology & Pharmacy, in a special edition on Advances in Antiviral Drugs, showed that Gene-Eden-VIR reduced EBV symptoms. Study authors wrote that, "Individuals infected with the Epstein Barr Virus…reported a safe decrease in their symptoms following treatment with Gene-Eden-VIR (4)." The study authors also wrote that, "We observed a statistically significant decrease in the severity, duration, and frequency of symptoms (4)."
To learn more about Gene-Eden-VIR, and EBV, visit http://gene-eden-kill-virus.com/EBV.php. All orders of Gene-Eden-VIR are completely confidential, and no information is shared or sold to any third party. Privacy is assured.
References:
(1) Chronic Fatigue Syndrome - Parenting and Child Health. Last Updated on November 15, 2013.
http://www.cyh.com/healthtopics/healthtopicdetails.aspx?p=114&np=304&id=1949
(2) CFS in Children and Adolescent: Ten Years of Retrospective Clinical Evaluation. Published on June 16, 2013.
http://www.ncbi.nlm.nih.gov/pmc/articles/PMC3697308/
(3) CDC - Chronic Fatigue Syndrome (CFS). Last Reviewed on May 14, 2012.
http://www.cdc.gov/cfs/general/index.html
(4) Gene-Eden-VIR Is Antiviral: Results of a Post Marketing Clinical Study. Published on August 12, 2013.
http://gene-eden-kill-virus.com/PP_Gene-Eden-VIR-is-Antiviral.pdf
polyDNA is a biotechnology company that develops dietary supplements using the unique scientific method developed by Dr. Hanan Polansky, which is based on Computer Intuition.
In addition to his unique scientific method, Dr. Polansky published the highly acclaimed scientific discovery, called Microcompetition with Foreign DNA. The discovery explains how foreign DNA fragments, and specifically, DNA of latent viruses, cause most major diseases.
polyDNA developed Gene-Eden-VIR, an antiviral natural remedy that helps the immune system kill latent viruses.