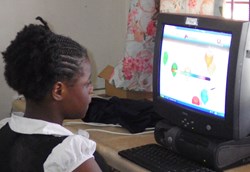 It motivates me to continue our work and do whatever it takes to help more children become better readers.
Beaumont, CA (PRWEB) December 31, 2013
No matter where parents are in the United States, chances are they won't have to look far to see the impact of Red Apple Reading, an online program that helps young students gain reading skills critical to their lifelong learning. Now they can also spin the globe to see Red Apple Reading's wide-spanning reach in countries like Jamaica. Tammy Bennecke, president and founder of Red Apple Reading, shared the latest success stories of 2013 in an online interview and on the company's social media sites.
Stefan Greth, a volunteer with Garland Hall Children's Home in Anchovy, Jamaica, shared pictures and an update with Bennecke in late November. Garland Hall is an orphanage to more than 30 youngsters whose ages range from 7-14.
While at Garland Hall, the students hope to gain vital educational tools to help increase their chances of success as young adults in the work force. Unfortunately, a lack of resources and time to dedicate to schooling, including reading classes, was impeding the children's learning.
Then a generous donation came in… five brand new computers for the students! Still, the computers weren't having an optimum impact without the right software. That's were Red Apple Reading stepped in, donating a free Educator Account to Garland Hall with access to their complete program, ensuring that all students would learn at their own speed, excel at their own level, and ultimately succeed with the program's customized approach to reading instruction.
Greth has seen the children's enthusiasm and reading skills build with Red Apple Reading in equal measure. "We spent some time using the software and what can I say?" Greth said. "What a great piece of learning environment software! We are so thankful for your help."
Stateside, Red Apple Reading has also been receiving feedback from many parents whose children are showing incredible improvement in their reading skills. One parent in California reached out in early December to let the Red Apple Reading team know that her son, who struggles with severe dyslexia, was able to find the confidence and learning tools he needs to gain literacy despite obstacles most students never face.
"Red Apple Reading is the first program that has made him feel excited and successful," the parent said. "We have seen a two grade level improvement since he started Red Apple less than a year ago. Your work isn't just a help, or just educational - it's life changing."
As Bennecke looks back on a successful 2013 and prepares for an even greater 2014, she does so with the indisputable knowledge that her program is having a growing impact, globally and locally.
"It really warms my heart to hear about children who are reading better after using Red Apple Reading," Bennecke said. "It motivates me to continue our work and do whatever it takes to help more children become better readers."
To view more information about Red Apple Reading at Garland Hall, visit the orphanage's homepage. To read more great testimonials shared by parents and teachers all across the country, visit Red Apple Reading's Testimonials page.
About Red Apple Reading:
Red Apple Reading was founded in 2011 by educator Tammy Bennecke. With the aim of fulfilling their motto of being "a small company with a big heart," Red Apple Reading is in the process of developing a full range of pre-kindergarten through third grade reading products, both online and as apps. Further goals include upper elementary reading adventure games, as well as expanding into other subject areas as the company's growth continues. Find out more about Red Apple Reading at http://www.RedAppleReading.com.