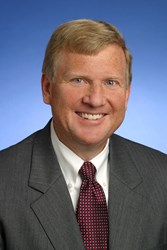 "Mark will bring a broader perspective of our industry and excellent investment market knowledge to our decision making and risk management functions," says Steve Sliver, MBG's president and CEO.
Huntingdon, Pennsylvania (PRWEB) January 02, 2014
Nationally recognized investment expert Mark R. Cummins of Green Lane, Pennsylvania, has been appointed to the Mutual Benefit Group (MBG) Board of Directors.
Cummins retired in 2013 from Harleysville Insurance, a leading regional provider of insurance products and services operating in 32 U.S. states. He most recently served the company as executive vice president, chief investment officer, and treasurer, overseeing in-house management of Harleysville's $4.5 billion of investment assets. Under Mark's direction, Harleysville posted "Best in Class" investment performance. Cummins was also responsible for investor relations until May 2012 when Harleysville was acquired by Nationwide Mutual Insurance Company.
"MBG is very fortunate to recruit someone with Mark's extensive insurance and investment leadership expertise to our board of directors. Mark will bring a broader perspective of our industry and excellent investment market knowledge to our decision making and risk management functions," says Steve Sliver, MBG's president and CEO.
For four consecutive years, Cummins was recognized by the Association for Financial Professionals (AFP) as part of the AFP 300, a list of some of the highest ranking professionals in Treasury and Finance. He has appeared on several CNBC programs, including Taking Stock, and has been featured in publications such as in The Wall Street Transcript and The Philadelphia Business Journal. He has also been a featured speaker at events sponsored by A.M. Best and the National Association of Mutual Insurance Companies.
A certified public accountant, chartered financial analyst, and certified treasury professional, Cummins graduated from Susquehanna University with a bachelor's degree in accounting. He earned a master of business administration degree in finance from Fairleigh Dickinson University and completed the American Institute of Chartered Property Casualty Underwriters Advanced Executive Education Program through the Wharton School at the University of Pennsylvania.
Prior to joining Harleysville in 1992 as chief investment officer and treasurer, Cummins spent 10 years at Selective Insurance as vice president of the investment and treasury functions. Before that, his background was in public accounting. During his career, his leadership responsibilities included everything from strategic planning, training, and asset management to oversight of departments such as human resources, information systems, and facilities services.
Cummins has served on the board of directors of Harleysville Savings Financial since 1995. He has also served as a board member, trustee and/or volunteer for a variety of organizations, including North Penn United Way, Grand View Hospital, Susquehanna University, Souderton Area International Student Exchange Council, Big Brothers/Big Sisters, and the First United Methodist Church of Newton, N.J.
Mutual Benefit Group is a regional property/casualty insurance carrier headquartered in Huntingdon, Pennsylvania, that has been providing coverage for personal autos, homes, and businesses since 1908. The company's insurance products are underwritten through its member companies, Mutual Benefit Insurance Company and Select Risk Insurance Company. Rated A- (Excellent) by A.M. Best, Mutual Benefit serves 80,000 policyholders in Pennsylvania and Maryland through 250 independent insurance agents. Mutual Benefit Group was awarded a 2013 Stakeholder Team Accomplishment Recognition (STAR) (TM) award from Demotech, Inc., a financial analysis firm specializing in evaluating the financial stability of regional and specialty insurers. Only 44, or 1.6%, of the 2,736 carriers reviewed by Demotech received the STAR (TM) award based on their 2012 operating results. Mutual Benefit Group was also named to the list of Best Places to Work in Pennsylvania for 2013. This was the fifth consecutive year that the firm has qualified for the list.