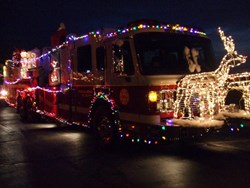 Lancaster, NY (PRWEB) December 30, 2013
Performance Advantage Company sponsored the sixth annual Christmasville Firetruck Parade, which took place Nov. 30 in the Village of Lancaster, N.Y.
All proceeds benefitted the Greater Lancaster Museum of Firefighting in Lancaster. Over one hundred pieces of fire apparatus from four counties were decorated with Christmas lights and accessories. Santa Claus, delivered by the last truck, flipped the switch, turning on all the lights in the Village square. Depew Hook & Ladder Truck #5 took first place overall for having the best float in the parade.
Performance Advantage Company would like to thank employees Jerry Enser and Tom Trzepacz, who organized the event. Enser works as the shop supervisor, while Trzepacz is in sales.
Other sponsors of the event were:

Whistle Stop Restaurant
VSP Graphics
RG Graphics
WBBZ TV
Dival Safety
Dadswell Towing
Bark Butler Attorney at Law
Hometown Firefighters Insurance
Apple Rubber Products
Tri-State Aluminum
PM Plastics
Gorman Enterprises
Colden Enterprises
Churchville Fire Equipment
Basil Chevrolet – Commercial Trucks
Kings Total Car Care
Extreme Fire Apparatus
VFIS
10-75 Emergency Lighting
Mike Brown of the UPS Store
Occustar of WNY
First Out Emergency Equipment
Fire Service Safety Testing
Aschlabach Enterprises
Akron State Bank
About the company:
Performance Advantage Company, established in 1992, is a privately-owned company that manufactures and markets high-quality tool-mounting brackets. PAC's primary market is the fire industry, providing specialty tool-mounting solutions for fire apparatus. Other markets include the military, law enforcement, EMS, utilities, and Homeland Security Department. PAC provides adjustable mounts, universal mounts, friction locking brackets, custom tool boards and more. A full list of their products and specifications can be found on their website. Performance Advantage Company is headquartered in Lancaster, N.Y., a suburb of Buffalo, and sells its products directly or through a worldwide network of dealers. Please visit PAC on the web for more information at http://www.pactoolmounts.com.