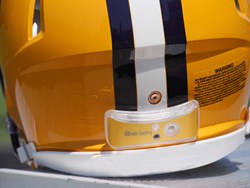 Our goal is to make participation in helmeted sports safer.
Bethesda, MD (PRWEB) December 30, 2013
The Montgomery County, MD Department of Economic Development (DED) has invested $75,000 in Brain Sentry, makers of Brain Sentry Impact Sensors™, innovative helmet-mounted devices that alert when an athlete suffers a rapid – and potentially dangerous – acceleration of the head. These sensors, which the company began to produce four months ago, are now being utilized by football, ice hockey and lacrosse teams to help identify players who need to be evaluated for concussion.
The $75,000 Montgomery County DED's investment (conditional grant) is part of a successful $1,000,000 capital raise for Brain Sentry, with additional funds coming from New York Angels, New Dominion Angels, Hull Street Capital and other private investors. According to the Montgomery County DED the typical amount of assistance – in grant or loan – is $5,000 to $100,000. Priority is given to "high technology companies" and "manufacturing companies" and Brain Sentry fits the bill on both counts. Brain Sentry also meets a third DED criterion as a "private employer providing public benefits."
"Our goal is to make participation in helmeted sports safer," said Greg Merril, co-founder and CEO of Brain Sentry. "We just launched at the start of this football season, and the feedback from coaches, trainers, parents and student-athletes has been exceedingly positive. This additional capital will help us to bring our product to market more quickly, thereby providing an accurate, affordable device for use by players across the country."
Brain Sentry Impact Sensor's patent-pending sensor technology includes a micro-electromechanical, tri-axial accelerometer capable of measuring acceleration from any direction. Helmets provide varying levels of impact protection depending on the direction of the hit. Brain Sentry's proprietary, DAS™ technology (Directionally Adaptive Sensing) provides a consistent alert level – independent of hit direction or helmet type.
Brain Sentry sensors are made in the U.S. and easily affix to the outside of the helmet (on the back). The product senses head impact and acceleration and helps coaches and trainers identify players who need to be assessed for concussion.
About Brain Sentry: Brain Sentry is privately held and headquartered in Bethesda, MD. The company was founded by a team of award-winning health-related product developers. Brain Sentry has a simple goal: to stop lives from being devastated by sports-related brain injuries. Learn more at http://www.brainsentry.com.