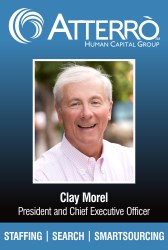 The difference at Atterro continues to be people. All of the programs we put in place this year and last have allowed us to attract and retain the best in our industry.
Minneapolis, MN (PRWEB) December 31, 2013
As 2013 comes to a close, Atterro Human Capital Group – established in 2010 and led by its CEO, Clay Morel – looks back with pride and satisfaction at a year of significant growth and advancement, made possible through acquisition, high-level workforce consulting services and the organic growth of its original specialty brands: Pro Staff, Digital People, Hunter Hamilton and Ware Technology Services. Historically viewed purely as a collection of temporary staffing agencies when the parent was known as Pro Staff, the new business identity of the Atterro Human Capital Group allowed the organization to aggressively market itself and expand its reach as an innovative and well-regarded firm offering expertise in top-level client initiatives such as Recruitment Process Outsourcing. In addition, Atterro has attracted more specialized talent by putting focused effort into consulting and contractor services.
Atterro announced two significant additions in 2013: the creation of BlueEdge RPO – for high-volume retail and sales recruiting – and the acquisition of Technical ProSource – an IT recruiting and consulting firm – growing the business from four specialty brands to six in just three years.
Morel and the Atterro leadership team have recognized employee development and talent management as key drivers to moving the organization forward. Specific actions included: 1) Top-down supported performance management program known as "5 E's – Execution, Edge, Engagement, Enterprise, Energy"; 2) Emerging Leader Program, which identifies individual Atterro associates for enrollment in year-long training and engagement activities to develop their leadership skills (seven participants in 2013); 3) New Associate Onboarding Program, which gathers all new Atterro associates from its many locations in the US at Minneapolis headquarters for immersion in the corporate culture and team-building; 4) Enhanced health, wellness and work-life balance for Atterro associates, including implementing a Teledoc Service and biometric testing 5) Connecting employees to the community by supporting Ronald McDonald House as the "charity of choice" – donating time and money; 6) Establishing a summer internship program to introduce college students to the staffing industry as a viable post-college career – Atterro reports that 20% of interns over the program's two-year span have been hired as internal associates
The payoff of these programs for Atterro associates has been a one-third improvement in turnover, compared to numbers two years ago. In addition, the investment in its people has been influential in handily beating the 2013 corporate goal with revenues over $230mm – representing 13.5% growth over 2012, topping the industry standard of 6%.
Morel says, "I feel that the company is well-positioned, with all our different brands, for the economic and industry expansion predicted in 2014. The difference at Atterro continues to be people. All of the programs we put in place this year and last have allowed us to attract and retain the best in our industry. I am proud of the culture of quality, speed and service our associates project and how they demonstrate those value every day with our customers."
"In 2014," Morel added, "we expect to exceed the industry growth rate through organic expansion into new markets, while seeking acquisition opportunities to widen our footprint and enhance our service offering."
Atterro also shifted responsibilities for two members of its leadership team in preparation for the coming year. Josh Smith, VP of Business Development, SmartSourcing Solutions, will lead growth efforts in national account service offerings, including the expansion of its specialty brands in many markets toward enhancement of their national presence. Atterro's staffing industry veteran, Susan Rylance, Senior VP of Professional Services, will focus on client and talent communication, leading the marketing team as Atterro enters 2014.