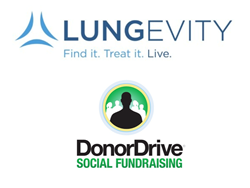 When I got the call that I was awarded the scholarship I said "Well, that just made my week."
Cincinnati, Ohio (PRWEB) December 30, 2013
The 2014 DonorDrive Run Walk Ride Fundraising Conference Scholarship has been awarded to Samantha Kellgren, Event Manager for LUNGevity. This annual scholarship benefits a nonprofit staff member with the opportunity to attend the Run Walk Ride Fundraising Conference February 25 and 26, 2014 in Atlanta. Run Walk Ride is North America's largest conference focused on fundraising through 'thon events.
Samantha is excited for this opportunity: "My director was looking for us to send someone, but it wasn't in the budget. When I got the call that I was awarded the scholarship I said "Well, that just made my week."" The scholarship includes transportation to and from the event, as well as admission to conference events.
Samantha joined LUNGevity in 2011 and with two other event managers handles their more than 60 Breathe Deep walks. She's currently working on expanding the race calendar for Team LUNGevity, which participates in major marathons. At the conference, she expects to learn how LUNGevity can continue to improve their events in order to grow the effectiveness of their mission. From her scholarship essay: "We've grown our grassroots Breathe Deep event series by over 21% this past year. It's an exciting time and learning how to best utilize our new events to fulfill the expectations and potential of our 16,000+ participants is a high priority."
Samantha is specifically looking to learn how to attract new supporters and how to improve the return rate of participants from previous events: "Breathe Deep events account for 41% of our annual funding and we strive to find new ways to grow our individual events by attracting new participants and further engaging past participants." She feels that knowledge gained at RWR will help their event success continue to grow: "The essential tools to harness our budding event revenue potential and participant base, as well as to build a stronger endurance team are lessons I want to bring back to LUNGevity." It will be nice to talk to other people at the conference and ask "How did you get that big fundraiser from last year to come back this year?"
The annual DonorDrive Run Walk Ride Fundraising Conference Scholarship was created to give deserving nonprofits the opportunity to send a staff member to the conference and bring learnings from industry leaders back to their organizations. These include innovators from Team ASPCA, Climate Ride, JDRF Canada and Team World Vision.
###
LUNGevity raises vital money for scientific research programs and raises awareness of issues surrounding lung cancer while building a sense of community for those suffering from a stigmatized disease. Learn more at lungevity.org.
DonorDrive® is truly effective software dedicated to event-based social fundraising for medium and large nonprofits. Children's Miracle Network Hospitals, Doctors Without Borders, World Vision, JDRF Canada and Team ASPCA are a few of the causes that use DonorDrive Social Fundraising software for their runs, walks, rides and virtual campaigns to engage constituents and maximize donations. Every year, people are raising millions for great causes through DonorDrive. Learn more at DonorDrive.com.