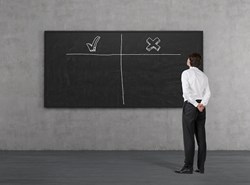 The checklist provides a rational way for entrepreneurs to avoid mistakes that historically great investors have made.
San Francisco Bay Area, California (PRWEB) December 31, 2013
"Warren Buffett would profess 'I am a better investor because I am a businessman and a better businessman because I am an investor'. The underlying relationship of researching a stock and evaluating a business is very close. If the person is an astute investor, they will use a similar research methodology when assessing which stock to purchase versus a business to buy. In the long term, the movement of a stock correlates with the performance of the underlying business," said Brar, founder, Brar Investment Capital.
Brar believes that entrepreneurs can benefit from using similar metrics when researching a private business as evaluating equity investments. Brar adds, "It's similar to our investment checklist used to evaluate a stock except we've adjusted a few variables as we are now evaluating a private business." The checklist provides a rational way for entrepreneurs to potentially avoid mistakes that historically great investors have made.
The checklist has been a powerful tool in hospitals and operating rooms where precision is necessary. After the B-17 bomber crash early in the 20th century, Boeing's survival was in question. Shortly after, a checklist was born. There have been zero accidents since and the US government ordered 13,000 more B-17 bombers.
To derive the checklist, Brar states that he went through annual letters of Warren Buffett and read countless literature on great investors such as Charlie Munger, Seth Klarman, Peter Lynch, Bruce Berkowitz, Mohnish Pabrai, and others. The final result is an extensive 90+ item checklist that one can use to potentially reduce investment mistakes. The checklist attempts to stress test or "kill" the company's business model. The checklist focuses on four pillars of analysis:
1. Sustainability of the business model
2. Accountability of the management
3. Value of the investment
4. Risk factors (i.e. business/emotional risk and leverage)
While no business will pass the checklist with a perfect mark, the goal is to alert the investor to the potential pitfalls.
About Brar Investment Capital:
Bhupinder "Pope" Brar is managing partner and founder of Brar Investment Capital, LLC. The firm is based in the San Francisco Bay Area and is an investment advisor to Brar Investment Fund LP, which invests globally in value-oriented and special-situation equities. For more information, visit http://www.brarifunds.com or e-mail pope(at)brarifunds(dot)com.
This document does not constitute an offer to sell, or a solicitation of an offer to buy membership interests in Brar Investment Fund, LP. We will not make such offer or solicitation prior to the delivery of a definitive offering memorandum and other materials relating to the matters herein. Before making an investment decision with respect to the fund, we advise potential investors to carefully read the offering memorandum, the operating agreement, the related subscription documents, and to consult with their tax, legal and financial advisors. The fund is offered to accredited and qualified investors. Brar Investment Fund, LP is not responsible for the consequences of any decisions or actions taken as a result of information provided herein and no investment decision should be made solely on the information provided.