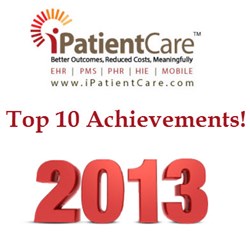 iPatientCare has delivered on all fronts to truly delight its customers. It takes pride in sharing these achievements and commits to continue to grow and achieve even greater heights in 2014, said Pranav Patel, General Manager, iPatientCare.
Woodbridge, NJ (PRWEB) December 31, 2013
iPatientCare, Inc., a pioneer in mHealth and cloud based ambulatory EHR, integrated Practice Management and Patient Portal solutions, proudly announced its significant achievements during 2013.
The most significant achievement of iPatientCare during the year 2013 was getting 2014 ONC HIT Certification. iPatientCare is now able to make its products available to providers wishing to adopt health IT to demonstrate Meaningful Use Stage 2 and earn federal incentives.
"Year 2013 was an eventful year for iPatientCare in terms of delivering high Interoperability by getting integrated with Healthcare Information Xchange of New York (HIXNY) HIE, and getting certified for the bi-directional electronic interface for submitting and importing immunization data from the New York State Immunization Information System (NYSIIS) and the Michigan Care Improvement Registry (MCIR)," said Shahab Shaikh, Enterprise Integration Specialist, iPatientCare.
Another significant achievement of iPatientCare on the mHealth front was its mobile iPatientCare (miPatientCare), designed to work on the native iPad and iPhone devices becoming sixth most downloaded medical application from App Store and receiving rave reviews from the i.Business Magazine, getting onto its cover page.
Pranav Patel, General Manager, iPatientCare, Inc., commented, "The uniqueness of iPatientCare has been its steady, robust growth with the least customer attrition rate heard in this industry. Let's have a glance on some recognitions won by iPatientCare during year 2013: Getting a contract award through competitive bidding as EHR Data Archival System for Exploration Medical System Demonstration of NASA Space Medicine Group through Wyle Engineering, Preferred/Meaningful Use Partner by nation's leading Regional Extension Centers (REC) for nine States, 12th Most Popular EHR Software Solution by Capterra, among many others."
In conclusion, iPatientCare emerged as one of the visionaries of the U.S. healthcare IT products and solutions market place by the end of 2013. At the core of iPatientCare's outstanding success are its software engineering excellence and high quality of services/support. Few other facts that matter the most to physicians are, namely, (a) availability of cloud-based EHR and practice solution on iPads and iPhones, (b) no upfront fees and restrictive, fixed length contracts, (c) affordable monthly subscription fee on a pay-per-use model, and (d) excellent implementation, training, and ongoing support, on almost 24x6 basis. iPatientCare has delivered on all fronts to truly delight its customers. It takes pride in sharing these achievements and commits to continue to grow and achieve even greater heights in 2014.
About iPatientCare:
iPatientCare, Inc. is a privately held medical informatics company based at Woodbridge, New Jersey. The company is known for its pioneering contribution to mHealth and Cloud based unified product suite that include Electronic Health/Medical Record and integrated Practice Management/Billing System, Patient Portal/PHR, Health Information Exchange (HIE), and mobile point-of-care solutions that serve the ambulatory, acute/sub acute, emergency and home health market segments.
iPatientCare EHR 2014 (2.0) has received 2014 Edition Ambulatory Complete EHR certification by ICSA Labs, an Office of the National Coordinator-Authorized Certification Body (ONC-ACB), in accordance with the applicable eligible professional certification criteria adopted by the Secretary of Health and Human Services (HHS).
Full certification details can be found at ONC Certified Health IT Product List.
The ONC 2014 Edition criteria support both Stage 1 and 2 Meaningful Use measures required to qualify eligible providers and hospitals for funding under the American Recovery and Reinvestment Act (ARRA).
The company has won numerous awards for its EHR technology and is recognized as an innovator in the field, being a pioneer to offer an EHR technology on a handheld device, an innovative First Responder technology to the US Army for its Theatre Medical Information System, the first to offer a Cloud based EHR product. iPatientCare is recognized as one of the best EHR and Integrated PM System for small and medium sized physicians' offices; has been awarded most number of industry Awards; and has been recognized as a preferred/MU partner by numerous Regional Extension Centers (REC), hospitals/health systems, and academies.
Visit http://www.iPatientCare.com for more information.