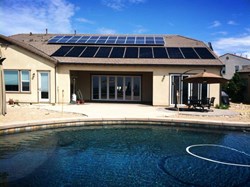 "We're proud to be named Aquatherm's newest Solar Industries Master Dealer, and look forward to upholding the code of quality and ethics that come along with the title." - Jason Stringham, SolarTech International
(PRWEB) December 30, 2013
The largest U.S. manufacturer of solar thermal swimming pool heaters is excited to announce the appointment of its newest Master Dealer in Southern California. Though San Diego-based SolarTech International has been installing Aquatherm's Solar Industries® Solar Pool Heater since 2010, the company will now be entitled to a number of additional benefits offered under the manufacturer's "Master Dealer Program."
Started in 1993, the Aquatherm Industries Master Dealer Program was created in order to recognize those Dealers who distinguished themselves through consistent quality installations and a greater level of customer service. In order to even be considered for the Program, Aquatherm requires a company first hold a Better Business Bureau rating of A+. Once a Dealer is chosen as a potential candidate for becoming a Master Dealer, inspections are made by Aquatherm in order to ensure quality installations, and additional sales and installation training are provided. Designed to be exclusive from the start, there are under fifty Master Dealers participating in the Program nationwide.
Jason Stringham, Owner of SolarTech International, made his start in the solar industry while attending college, and soon found a job installing solar for Aquatherm Regional Distribution Center and Master Dealer Mark Naylor Solar Specialists, located in San Diego. Eventually, Jason found himself in a position to forge out on his own, and founded SolarTech in 2005. As a licensed C-46 contractor, his company and has been installing and servicing solar photovoltaic (PV), domestic hot water, and pool heating ever since.
"At SolarTech, we take great pride in our work and continually strive to assure that our clients receive the absolute best service, products and solar system possible," says Stringham.
"As far as solar pool heating, there's no product out there better than Aquatherm. I was familiar with their Solar Industries Solar Pool Heater from my time with Mark Naylor Solar Specialists, and it was a no-brainer to continue carrying the product. We're proud to be named Aquatherm's newest Solar Industries Master Dealer, and look forward to upholding the code of quality and ethics that come along with the title."
About Aquatherm:
An ISO 9001:2008 registered company, Aquatherm Industries, Inc. is the largest U.S. manufacturer of low-temperature, unglazed polymer solar collectors – primarily used for residential and commercial swimming pool heating as well as domestic hot water and process pre-heat applications.
Within the company's "pellets to panels" approach, Aquatherm's extrusion, welding, and injection molding processes have been awarded four U.S. and two International Patents for its technology. In addition, Aquatherm's collectors were the first NSF-50 listed solar collectors in the world.
Aquatherm distributors currently serve Australia, New Zealand, Hawaii, all of North, Central, and South America, France, Egypt, and Jordan.