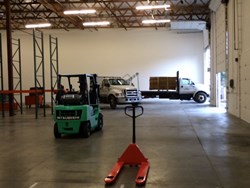 By opening a distribution center in the Seattle area, we are making a significant commitment to the region.
Kent, WA (PRWEB) January 02, 2014
Graco Supply is excited to announce the opening of a new location in Kent, Washington. This new location will serve as a distribution center for the Pacific Northwest. The facility is located at 8635 S 212th Street, Building C, Kent, WA 98031 inside the Pacific Business Park. This is the first time the company has opened a new location since 2010 when the sealant repack facility opened in Ball Ground, Georgia.
The building has 12,615 square feet of warehouse space, which enables Graco Supply to stock hundreds of items from various manufacturers, including Airtech vacuum bagging materials, AkzoNobel paints and coatings, and Huntsman adhesives amongst others. A sub-zero freezer is also being installed at the Kent, Washington location to permit storage of adhesive films and other temperature-sensitive materials.
While this is Graco Supply's first location in the Pacific Northwest, the company has been actively growing and acquiring customers in the area, even adding an outside sales representative to the territory earlier this year.
"Over the years, Graco Supply has built a significant base of business in the Pacific Northwest by providing flagship brands and excellent service from afar," said Steve Novakovich, CEO for Graco Supply. "By opening a distribution center in the Seattle area, we are making a significant commitment to upgrading our service to the region by offering customers quicker support, local inventory - including frozen materials, and relief from high freight costs."
Local customers will also have the option to pick up orders from the warehouse or have materials delivered by courier service.
The new location kicks off with an Open House on January 24, 2014 from 3 pm to 6 pm. Guests will be allowed to see the new office, meet our staff, talk with some key manufacturers, and enjoy food and drinks while mingling with other industry professionals. Reservations can be made online.
For additional information the new location or Graco Supply in general, please contact Nici Sandberg at Graco Supply 800-969-3200.
About Graco Supply
Graco Supply, based in Fort Worth, Texas, has been providing quality adhesives, sealants, paints, coatings, primers, lubricants, tapes, cleaners and MRO products to the aerospace, aircraft and industrial markets since 1959. Graco Supply also offers custom packaging and supply chain solutions giving its valued customers unequaled choices regarding how materials are procured, managed and used. Graco Supply is ISO9001:2008, AS9100, and AS9120 certified and NADCAP accredited. For more information about Graco Supply, visit http://www.gracosupply.com.