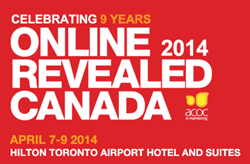 "We have increased the value by offering the freshest , most relevant and up-to-date content possible to our participants." said Alicia Whalen, co-Founder of A Couple of Chicks.
Toronto, Ontario (PRWEB) December 31, 2013
Canada's premiere digital tourism marketing conference, Online Revealed Canada, returns to Toronto April 7-9, 2014 at the Hilton Toronto Airport Hotel. 2014 brings new and unique initiatives to attendees of the event, including a "Best Rate Guarantee" and generous multiple registration discounts for companies registering multiple participants. A single registration is $699.00, with additional discounts for groups. As an added bonus, people who register by December 31, 2013 will be entered to win an iPad mini.
The 2014 conference, produced by A Couple of Chicks Digital Tourism Marketing agency, is in its 9th year. "We are thrilled this year to work with our friends at Hilton and Silver Hotel Group as we move the conference back to Toronto. First, we have reduced our prices to offer the best rate available and to encourage companies to bring more colleagues, and most importantly, we have increased the value by offering the freshest , most relevant and up-to-date content possible to our participants." said Alicia Whalen, co-Founder of A Couple of Chicks.
Online Revealed Canada has grown rapidly because of its hands on approach to learning innovative digital marketing strategies. The first conference was held in Ottawa in 2006 in association with the Canadian Tourism Commission, drawing more than 180 attendees. Online Revealed has since evolved to become the go-to event for the travel and tourism industry in Canada to learn, connect, and be informed about the ever evolving world of digital marketing. In just 8 years, Online Revealed Canada and A Couple of Chicks have produced 7 conferences and 6 road shows educating over 1,900 industry professionals by providing over 125 workshops and presentations.
In 2013, Online Revealed Canada hosted over 350 delegates from Destination Marketing Management Companies, Major Hotel Brands and Management Companies. In a quote from a survey of the 2013 event held at Caesars Windsor, an attendee wrote "The speakers for the sessions I attended were all wonderful. They each had a different approach to digital tourism marketing and how to apply it to their business. They all showed great personal examples."
The 9th Annual Online Revealed Canada Conference will include destination marketing organizations, tourism operators, hoteliers, travel agencies, attractions, media and marketing agencies, programmers, designers and tourism suppliers. The program encompasses digital tourism marketing strategies and tactics including social media, SEO and e-commerce strategies, and provides unparellelled networking and mentoring opportunities.
To register and be entered to win an iPad mini by December 31st, please visit: https://www.regonline.com/builder/site/Default.aspx?EventID=1317959.
About Online Revealed:
The Online Revealed tourism marketing conference provides travel and tourism professionals with unique and innovative online marketing education, with an agenda that includes educational workshops, keynotes and panel discussions, all driven by the industry for the industry. The event is produced by leading online marketing firm, A Couple of Chicks e-Marketing, http://www.acoupleofchicks.com. Online Revealed Canada is an annual Canadian conference with a mission to educate the tourism industry to be successful on the World Wide Web. Visit http://www.onlinerevealed.com for more information.