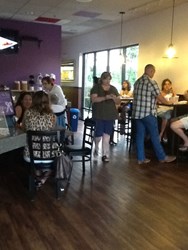 Poway, CA (PRWEB) December 30, 2013
Affordable Seating, a leading commercial seating manufacturer, has helped bring an elegant touch to Butter Milk in Poway, CA. The new bakery and dessert boutique which opened its doors recently makes and serves cupcakes, cookies, cannolis and cheesecakes made from scratch. Dedicated to making the best desserts available, all baked goods are made from all fresh ingredients.
Buttercream is owned by two entrepreneurs who succeeded in their attempt to open a dessert boutique in Southern California. The gourmet bakery had been a dream for the two women for a long time. The dessert boutique is a unique concept which features individual small batch desserts. Most of what they serve and sell to the local residents of Poway, CA begins with the letter "C" and incudes delectable such as cup pies, cake pops, and crownies in addition to their very popular cupcakes, cheesecakes, cookies and cannolis. They also serve fresh roasted coffee. Some of their best sellers are the Neopolitan, Pucker Up Lemon and Raspberry Chiffon Cup Cakes. Other unique cupcake flavors include Holiday Anise, Candy Cane Lane and Gingerbread with Zinfandel. They make the cupcakes in more than 30 flavors.
The owners of Buttercream turned to Affordable Seating because of their reputation for quality commercial furniture at competitive prices. They ordered Affordable Seating's elegant Window Back Metal Chairs in black frame with black padded vinyl seats. "The stylish metal chairs and bar stools were a great match for the dessert boutique", remarked David, salesperson for Affordable Seating.
The Window Back Metal Bar Chairs are currently on sale for only $31 from Affordable Seating, and the matching bar stools currently sell for $49.90. The frame is available in black, copper vein, silver vein, gold vein or gold. Customers have the choice of a solid wood seat or padded seat using American made option is a padded seat. The seat is upholstered using American made foam and vinyl or fabric and can also be custom made. "The Window Back Metal Chairs are a popular choice for casual restaurants and bistros" said David." The metal frames and solid wood seats are very durable, yet the chair has a sophisticated, elegant design".
To view Affordable Seating's full selection of restaurant chairs, bar stools, booths, tables and patio furniture, visit http://www.affordableseating.net or call a customer service representative at (888) 495-8884.
Buttercream is located 13624 Poway Rd., Suite 120 in Poway, CA. They can be contacted at: (858) 513-9399.