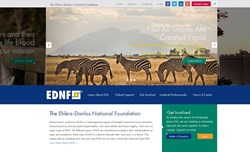 Washington, DC (PRWEB) December 31, 2013
Nonprofit health organization, Ehlers-Danlos National Foundation (EDNF), has unveiled a striking new website created by award-winning DC web design firm, Blue Water Media. Built in the Drupal content management system, https://ednf.org helps the EDNF promote its mission to build awareness, support, and resources for individuals affected with the connective tissue disorder, Ehlers-Danlos Syndrome (EDS).
The new website's design expertly blends aesthetic appeal with a simplified user experience. Clear navigation and strong call-to-actions promote user engagement and a dynamic homepage slideshow featuring high quality and relevant imagery which highlights the global impact of EDS, and resources available for those affected by the disorder.
The EDNF website further encourages visitor engagement with a "Get Involved" tab, which drives site user's to share EDS stories, sign up for volunteer programs, and make donations. Additionally, a vast resource guide by and for medical professionals familiar with EDS provides training materials, research projects, resource guides and best practices to engage and inform users.
Blue Water Media's implementation and customization of the Drupal content management system will allow the EDNF to easily update the site on an ongoing basis. This will ensure it remains a comprehensive and reliable information resource for its target audience of EDS patients, their families, medical professionals, volunteers and potential donators.
About The Ehlers-Danlos National Foundation
Founded in 1985, The Ehlers-Danlos National Foundation creates resources for patients affected by Ehlers-Danlos Syndrome. By leading the search for knowledge about Ehler-Danlos Syndrome, the EDNF is building a community of people who work together to improve the lives of those impacted by the connective tissue disorder. The EDNF strives to support research and education in many ways in an effort to prevent disfigurement, crippling and premature death through early and accurate diagnosis. For more information, please visit http://www.ednf.org/.
About Blue Water Media
Blue Water Media is an award-winning information technology, web design, and interactive marketing agency based in Washington, D.C., with offices in New York and San Francisco. Leveraging cutting edge web design techniques, flexible open source software applications, emerging technologies, and integrated marketing campaigns, Blue Water Media offers a turnkey approach to attaining online success for government agencies, non-profits, and businesses of all sizes. For more information, please visit http://www.bluewatermedia.com.