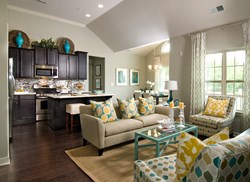 Charlotte, NC (PRWEB) January 01, 2014
Shea Homes of Charlotte announces that final opportunities are available in two neighborhoods in Charlotte. Both located within Mecklenburg County, these neighborhoods have limited new Shea Homes remaining for sale before they are sold out.
Riviera, located near the Ballantyne area of Charlotte, offers maintenance-free condominiums, along with a neighborhood pool and cabana for residents. Riviera offers unique triplex condos; each home is an end-unit and has an attached one or two-car garage. Only 5 buildings remain; each building has 3 condominiums. One building is released each month for sale.
Michele Scott, Vice President of Sales and Marketing at Shea Homes, commented, "We have a seen a tremendous surge of interest in Riviera over the last 18 months. We sell out a building as soon as we release it, so at the current rate, we will be sold out by May of 2014. It's exciting to see so much interest and buzz about our unique product."
For more information on Riviera, please visit Shea Homes online. Condos range from the $150's - $200's.
On the other side of southern Mecklenburg County lies The Palisades, a master-planned neighborhood on the shores of Lake Wylie. Shea Homes currently has only 4 opportunities left in the Bear Creek village; these are all inventory homes in various stages of construction, from framing to move-in ready.
The Palisades offers tremendous amenities, with trails, tennis courts, pools, fitness center and The Palisades Country Club and Golf Course. Final homes all offer four sides brick exteriors with 3-car side entry garages and numerous upgrades. Homes range from $437,000 to $482,000, with sizes from 3,500 to over 4,100 square feet.
To arrange for a tour of one of these homes, please contact us at palisades-nc(at)sheahomes(dot)com. View more information online sheahomes.com/charlotte.
ABOUT SHEA HOMES
Shea Homes Charlotte is a division of Shea Homes Limited Partnership, an independent member of the Shea family of companies; Shea Homes is the oldest family‐owned homebuilder in the United States. Shea Homes builds new homes in California, Arizona, Nevada, Colorado, Washington, North Carolina, and Florida. With choices to suit homeowners in every stage of life, Shea Homes offers new homes ranging from affordably priced condominiums to traditional single-family detached homes and magnificent luxury residences. Shea Homes is proud to be named a J.D. Power 2012 Customer Service Champion and is only one of 50 companies so named in the U.S. For more information about Shea Homes and its communities, please visit the company's website at [http://www.SheaHomes.com.