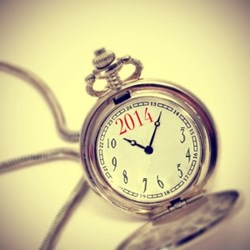 Many consumers are more open to change at this time of year. When brands refine a labeling approach, shoppers notice.
Denver, CO (PRWEB) December 31, 2013
Lightning Labels, leader in printing custom labels and stickers, is helping businesses get off to a fresh start with New Year's resolution label design ideas. In 2014, brands can take advantage of this season of renewal by trying out a new promotional strategy and revitalizing marketing approaches. While consumers everywhere are coming up with ideas to take them into the new year, companies can examine their brand identity and come up with custom product labels that fit their unique offerings.
"The new year is a great time for brands to experiment with new label designs," said AnneMarie Campbell, Business Development Manager at Lightning Labels. "Many consumers are more open to change at this time of year. When brands refine a labeling approach, shoppers notice. For companies that are thinking about extending product lines in 2014, there's no better time than now to experiment with new ideas. Lightning Labels offers a variety of customizable labeling solutions to help businesses start the new year on the right foot."
Whether a business is changing up its design, using a new label shape or trying out a promotion, the new year is a perfect time to make these changes.
Consider Consumer Resolutions When Labeling Products for New Years:
When labeling products for New Year's, it's important to keep in mind that many people are making resolutions. Because so many people's resolutions relate to health, certain products are likely to be more popular at this time of year. When designing a label, call attention to the healthy properties of foods, nutraceutical items and bath and body products. For consumers aiming to lose holiday pounds, emphasize nutrition and healthful eating habits. Including wholesome recipes on labels is another good way to gain the interest of shoppers.
Others may have a different focus in the new year. Companies can use this opportunity to communicate through labeling what makes them unique and how they may be beneficial to society. This could mean emphasizing hand-crafting, fair-trade, sustainable or environmentally friendly practices.
New Year's Product Labels Help Companies Plan Ahead:
Before thinking about a strategy for new year's product labels, brands can consider what changes they will be making in the coming year. It's a good idea to think about whether the industry or target consumer has changed. What will the business look like a year from now? These inquiries and more can affect the direction for a label design.
Changing up product packaging is a great way to demonstrate that a brand is taking a new direction. It can also communicate to consumers that the company is cutting edge and keeping up with the times. Even simple changes to color and text style can go a long way in making a label look like it belongs in 2014. As a reminder, free ground shipping is available from Lightning Labels through December 31, 2013, applying to orders shipped within the U.S. and Canada. Visit Lightning Labels for more information or updated promotions.
About Lightning Labels:
Lightning Labels uses state-of-the-art printing technology to provide affordable, full-color custom labels and custom stickers of all shapes and sizes, and now offers a full line of custom packaging products. From small orders for individuals, to the bulk needs of big businesses, Lightning Labels is equipped to handle and fulfill sticker, label and product packaging projects of all types. Best of all, like the name implies, Lightning Labels provides a quick turnaround to every customers' labeling and product packaging needs. Uses for Lightning Labels' custom product labels and custom stickers include food packaging and organic food labels, wine and beverage labels, bath and body labels, and nutraceutical products, such as vitamins, essentials oils, and herbal remedies, as well as event stickers, adhesive window stickers and more. Lightning Labels strongly supports the development of environmentally friendly printing materials and carries EarthFirst PLA, a new kind of green label material made from corn instead of petroleum. While operating as a high-tech printer, Lighting Labels prides itself on its personalized customer service. Lightning Labels provides one stop shopping for all of your label and product packaging needs. For more information and to place orders online, visit LightningLabels.com. For the latest in packaging news and labeling promotional offers, find Lightning Labels on Twitter (@LightningLabels), Facebook, Pinterest, Google+ and LinkedIn.