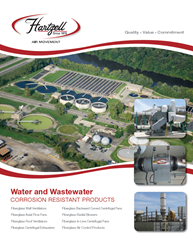 President of Hartzell Air Movement, Sean Steimle explains, "This new tool will better describe the benefits of our fiberglass product line to customers and allow them to easily select which fan is right for their unique application."
Piqua, Ohio (PRWEB) December 31, 2013
Hartzell Air Movement is pleased to release their new water and wastewater bulletin. The bulletin includes all Hartzell fiberglass fans, accessories, weights, dimensions, and helpful charts and guides to assist in proper fan selection. The new bulletin also includes information on the new larger sizes (up to 73") available in the Hartzell Series 41 fiberglass backward curved airfoil centrifugal fan.
President of Hartzell Air Movement, Sean Steimle explains, "This new tool will better describe the benefits of our fiberglass product line to customers and allow them to easily select which fan is right for their unique application." Hartzell Air Movement has been manufacturing fiberglass axial and centrifugal fans in the water and wastewater industry for over fifty years. They offer a complete line of FRP fans for corrosive environments. The new water and wastewater bulletin can be viewed at http://www.hartzellairmovement.com.
Hartzell Air Movement is a leading manufacturer of industrial air moving solutions to a variety of markets throughout the world. The company manufactures in Ohio, Indiana, and Singapore. Hartzell has been in business since 1875.
If you would like more information on Hartzell Air Movement products, please visit http://www.hartzellairmovement.com or contact your local field sales representative.