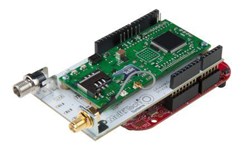 'Because the Shield leverages our easy-to-use SocketModem iCell product, developers at the Hackathon will be able to connect to AT&T's mobile network quickly.' -Scott Wilken, Multi-Tech Systems CTO
Minneapolis, MN (PRWEB) January 02, 2014
Multi-Tech Systems, a leading provider of M2M (machine-to-machine) products and services, is challenging hackers to utilize the SocketModem Shield HSPA+ Arduino Shield at the AT&T Hackathon & 2014 Developer Summit on January 4-5 at the Palms Casino & Resort in Las Vegas. Sanctioned by the industry and approved by AT&T, the new SocketModem Shield allows for rapid prototyping and connections to the cellular network.
The SocketModem® Shield uses the SocketModem® iCell, which features Multi-Tech's proprietary cellular network management functions, such as persistent connectivity and auto-connect. As the only Arduino Shield with full PTCRB certification and AT&T approval, the SocketModem Shield allows developers to develop, test, and build without needing to undergo additional certification for cellular communications. Offering HSPA+ cellular performance utilizing the Telit HE910 module, the Shield also leverages the Freescale Freedom FRDM-KL46Z and ARM mbed development platforms.
"Because the Shield leverages our easy-to-use SocketModem iCell product, developers at the Hackathon will be able to connect to AT&T's mobile network quickly," said Scott Wilken, Chief Technology Officer, Multi-Tech Systems. "We're excited to see all of the cool apps the developers create with our Shield."
Those interesting in learning more can visit http://www.multitech.com/hackathon.mvc.
About Multi-Tech Systems
Multi-Tech Systems has been delivering industry-leading M2M (machine-to-machine) communications solutions since 1970. With more than 22 million devices deployed worldwide, Multi-Tech focuses on helping customers achieve the shortest path to M2M connectivity – from concept to implementation and total lifecycle management. Whether a project is simple or very complex, Multi-Tech has the resources and expertise to work with any development team to customize a hardware or software solution that maximizes speed to market and return on investment. With carrier-approved external and embedded modems and gateways, Multi-Tech makes it easy and fast to connect your devices to networks anywhere in the world. We work with clients in almost any market to enable cellular, analog, Wi-Fi®, Bluetooth® and GPS capabilities into a solution to achieve superior business results. If we don't have it, we will develop it. Multi-Tech established its reputation for Innovative Designs and Innovative Solutions by obtaining 80+ patents and certifications from more than 30 carriers and over 80 countries. Multi-Tech has made M2M Simplified for thousands of customers around the globe. http://www.multitech.com. Twitter: http://www.twitter.com/MultiTechSys.