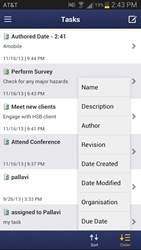 We designed the application to be easy to use – a natural extension of the Viewpoint For Project Collaboration environment – which allows users to quickly respond to an RFI, change order or issue, wherever their workday takes them
Portland, Ore. (PRWEB) December 31, 2013
Viewpoint Construction Software® has released the Project Docs application for Viewpoint For Project Collaboration customers allowing all project workers from field teams, architects and senior management the ability to easily share and mange documents and photos from their Viewpoint For Project Collaboration solution on a mobile device at no additional cost.
Viewpoint recognizes that construction project teams are continuously away from the office and on the road or at the job site, and by providing access to their project collaboration data helps enable more efficient and cost effective project completion. The Project Docs application is free to download for current Viewpoint For Project Collaboration customers on the Google Play Store for Android devices and on the iTunes Store for an Apple® iPad® or iPhone®.
"This new mobile product showcases our continued commitment to deliver new capabilities and value that help customers realize greater success with their projects," commented Rob Humphreys, Vice President of Product Management at Viewpoint. "We designed the application to be easy to use – a natural extension of the Viewpoint For Project Collaboration environment – which allows users to quickly respond to an RFI, change order or issue, or begin a discussion and review wherever their workday takes them."
The Project Docs mobile application includes:

Easily navigate to a project site, project or sub-project
Create and modify new tasks, revise documents such as RFIs, issues, change orders and respond to tasks and discussions
Easily view details of a user/organization, including contact details
Snap photos and easily upload to your projects
Quick access to project information with drill down capabilities; application remembers favorite areas visited allowing users to revisit them quickly
At-a-glance screen with items needing your attention helps to manage tasks
About Viewpoint Construction Software
Viewpoint Construction Software, providing construction specific software that integrates, has a long-standing focus on meeting the collaborative and information needs of the construction industry by offering construction-specific enterprise resource planning, project and BIM collaboration, mobile field-to-office and enterprise content management solutions. Viewpoint customers include more than 30 percent of the 400 largest U.S. general contractors and has the most technology partnerships with the top 50 mechanical and electrical contractors in the U.S. Viewpoint serves as the technology partner of choice to the construction industry and delivers the right solutions on the right platform, including cloud, SaaS and on premise solutions and provides customers improved accountability, efficiency and productivity throughout the U.S., Canada, the United Kingdom, Europe, the Middle East and Australia. For more information, visit http://www.viewpointcs.com.
© 2013 Coaxis, Inc. dba Viewpoint Construction Software. All Rights Reserved. Viewpoint Construction Software®, Viewpoint V6 Software®, Construction Imaging® and 4Projects® are trademarks or registered trademarks of Coaxis, Inc., dba Viewpoint Construction Software in the United States and/or other countries. Other names and brands may be claimed as the property of others.