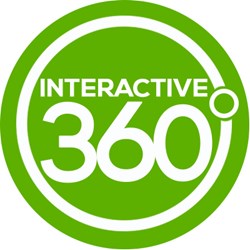 Amarillo, TX (PRWEB) December 30, 2013
Interactive 360, Inc. of Amarillo is once again giving back to the community by providing a number of digital services, free of charge, to the Amarillo Recovery from Alcohol and Drugs (ARAD). As a part of a close-knit business community in the Texas panhandle, Interactive 360, Inc. understands the importance of supporting local community organizations in order to help them grow along with the community and provide for a brighter future for all those involved.
ARAD is a not-for-profit organization that began serving Amarillo and the panhandle area on February 21, 2013. Their mission is to provide affordable 30-day residential treatment for alcohol or drug addiction to Amarillo and the surrounding Panhandle area to those who otherwise could not afford these services due to various circumstances. Before ARAD, no such treatment option has existed in the Amarillo area. ARAD was conceptualized because of the reality of the many individuals and families devastated by drug and alcohol addiction and the lack of residential treatment in Amarillo.
Modeling ARAD's program after the Austin Recovery Center (ARC), they have also began working with local homeless shelters and offering the equivalent of 30-day residential treatment to indigent clients. This program is free and provides a daily treatment protocol for the clients, lunch and transportation to and from the daily treatment facility. The partnering shelters in turn offer a safe alcohol and/or drug-free living environment during treatment. When clients graduate from ARAD, most will continue to live at one of the participating shelters and continue recovery in their long-term recovery program.
ARAD is unique in its partnership with various agencies to provide treatment and/or recovery programs to indigent clients addicted to alcohol or drugs. By collaborating with homeless shelters, ARAD dramatically cut the cost of treatment for addiction for those who are homeless while providing for the first time in decades, treatment for addiction to those who would otherwise not be able to afford treatment.
Interactive 360, Inc. is helping to promote the growth of ARAD by donating digital marketing services to help increase ARAD's exposure and help provide information about their services to a broader section of the Amarillo and Texas panhandle area.
Contact ARAD: arad.prg(at)gmail(dot)com or at 806-353-2862.
Interactive 360, Inc. is a digital marketing agency based in Amarillo, Texas that offers a wide range of products and services for clients in the automotive industry, including complete website construction, inventory management, Drive360®CRM, monthly onsite training, social media marketing, SEO, content marketing and PPC marketing campaigns. Rick McLey, CEO of Interactive 360, Inc., believes that in order for Interactive 360, Inc. to best serve clients in the digital arena, one cannot fear change but embrace it and constantly be eager to improve. While Interactive 360, Inc. specializes in the automotive sector, the diversity of the team helps provide products for other industries, especially those that help strengthen the community that they call home. For any questions you may have, please contact Interactive 360, Inc. at 806-576-3700 or visit their website at http://www.Interactive360.com.