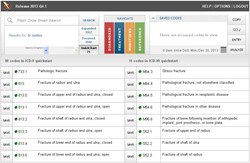 Flash Code with ICD-10 Smart Search makes training and transition much easier for providers and payers. It is the ultimate coding solution. Karlen Bailie, M.D., President
Los Angeles, CA (PRWEB) January 06, 2014
Under HIPAA regulations, every health care provider must use the ICD-10 coding system for all medical services and procedures performed on or after October 1, 2014. In addition, all health insurance payers, and government agencies involved with the administration and/or payment for health care, such as Medicare and Medicaid, must convert to the new system. This change will cost the health care industry and tax payers billions of dollars.
There are about 18,500 codes in the current ICD-9 coding system and almost 164,000 possible codes in the new ICD-10 coding system. With a 886% increase in the number of codes, a key issue becomes how fast the correct code can be determined. Many providers and organizations are turning to electronic coding solutions for training and transition to the ICD-10 coding system. Flash Code, deployed as Software as a Service (SaaS) is currently used by tens of thousands of health care providers and payers for coding of medical procedures and diagnoses.
FLASH CODE WITH ICD-10 SMART SEARCH
Most search engines return "Google style" result sets with large numbers of incomplete and unsorted results. That means the medical coder has to spend extra time reviewing the results to determine if the object of the search is present, and if not, performing sequential searches using different search terms in an attempt to locate the correct code. This search style will only be compounded by the transition to ICD-10 in that much larger result sets will be delivered to an overwhelmed user.
Most electronic coding programs display codes, headings, subheadings, alpha index, and table information, then make the user figure our what is relevant to their needs. By contrast, Flash Code search results are "code-centric". This means the user sees code numbers and descriptions with each search, which is the end point for their workflow.
Flash Code with ICD-10 Smart Search uses a sophisticated proprietary search algorithm to deliver relevant Code-Centric search returns with reasonable counts as follows:

First, it allows searches by full or partial code numbers, words, phrases, acronyms and common abbreviations. If a medical coder searches for "fracture" or "fx," a common abbreviation for fracture as a search term, the results will incorporate all codes that include fracture in the definition.
Second, ICD-10 Smart Search accelerates workflow by providing instant access to three types of search results:
QuickStart – collapses large lists into a select list of parent codes from which the coder can quickly navigate to the correct billable code(s).
Focused – shows results as found by searching code numbers, official descriptions and/or associated abbreviations and synonyms.
Expanded – builds on Focused searches by also finding related terms from the alphabetical index and table of Neoplasms and Table of Drugs & Chemicals.
Third, Flash Code displays information only from the selected code set in strict numeric order. If the coder is searching for a diagnosis code, only codes from the ICD-9 and/or ICD-10 coding systems are displayed.
Fourth, Flash Code includes unique stop and go buttons to let the coder know instantly if a code is billable or not. Only Flash Code includes indicators that indicate that a code is reportable (red button) or that more specificity is required (green button).
Flash Code users can switch back and forth from ICD-9 to ICD-10 with ease, plus map from ICD-9 to ICD-10.
FLASH CODE WORKS ON ALL DEVICES
Flash Code is delivered on fast and highly available servers with up time exceeding 99.9% per year. Flash Code works on PCs, MACs, laptops and tablet devices. Dedicated servers and intranet versions are available. The website has processed over 2 billion hits; delivering over 500 million page views to over 10 million visitors.
FREE TRIAL AVAILABLE
A 14-day unrestricted free trial is available for all interested parties. After the 14-day trial, users may either subscribe to the unrestricted service or continue the free service with access restrictions.
Corporate entities are encouraged to call 1-800-MED-SHOP to arrange a comprehensive demonstration of Flash Code for management, coding, training and information technology staff.
About Flash Code Solutions, LLC
Flash Code Solutions, LLC (formerly Medical Coding & Compliance Solutions) a division of PMIC, provides sophisticated electronic coding and compliance solutions to the health care industry; including Flash Code and http://icd9coding.com, the most visited diagnosis coding website on the internet. For more information, visit http://www.FlashCode.com.
About PMIC
PMIC is the nation's leading independent publisher and reseller of medical coding and compliance books, forms and software. For more information, visit http://www.pmiconline.com.
Flash Code is a registered trademark of Flash Code Solutions, LLC. All rights reserved