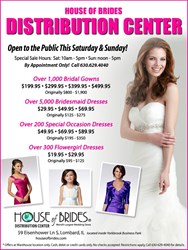 Industry Consultant Dale Buziecki states, "The Distribution Center Sale is an excellent time to find the dress of your dreams at a fraction of the price."
Lombard, Illinois (PRWEB) December 30, 2013
House of Brides announced the wedding sale this morning and received immediate online appointment requests. The retailer expects the low advertised prices to draw crowds of budget-minded customers.
Over 1,000 designer bridal gowns, originally priced $800 - $1,900, are on sale from $199.95, $299.95, $399.95 and $499.95.
Over 5,000 bridesmaid dresses, originally priced $125 - $275, are on sale from $29.95, $49.95 and $69.95.
Special occasion dresses, originally $195 - $350, are on sale $49.95, $69.95 and $89.95. Hundreds of flower girl dresses are $19.95 and $29.95.
Shoes, jewelry and accessories are also featured at drastically reduced prices.
The retailer first opened the doors to their distribution center in January 2012. The center houses thousands of off-the-rack bridal and special event apparel and accessories. All merchandise is available for immediate purchase and payable by cash, debit or credit card only.
The retailer periodically opens the center to the public. Because of the sale's popularity, it's by appointment only. Walk-in customers are not accepted and appointments are kept to 1-hour to ensure every customer is serviced.
Industry Consultant Dale Buziecki states, "The Distribution Center Sale is an excellent time to find the dress of your dreams at a fraction of the price."
The Distribution Center is located at Eisenhower Lane South in Lombard inside the Yorkbrook Business Park. The sale is by appointment only. To make an appointment, call 630-629-4040 or click Appointments on the retailer's website to schedule an appointment online.
Sale hours are Saturday, January 4th 10 a.m. – 5 p.m. and Sunday, January 5th 12 p.m. – 5p.m.
About House of Brides:
House of Brides established its first brick-and-mortar store in 1929 and has since grown to 11 Chicagoland stores and global E-Commerce website, http://www.houseofbrides.com. Millions of brides and their wedding parties visit the salons and global website for over 50,000 wedding and special event products.