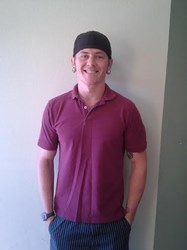 Sometimes the lessons are difficult, but it is amazing to see what each new day brings to us all.
San Diego, CA (PRWEB) January 02, 2014
This holiday season comes with a great accomplishment for Earth Source Organics' warehouse manager Tony Houlihan, who is now a fully certified chocolatier. After over two years of hard work and dedication with the company, Tony expanded his professional training through completion of a chocolatier program and formal certification at Ecole Chocolat. This achievement marks another stepping stone in Tony's journey with Earth Source Organics (ESO).
Tony first came to ESO in 2011, answering an ad for a warehouse worker. He approached the interview with full honesty, disclosing his history of substance abuse along with his determination to change his life, and to grow personally and professionally with a company that would be willing to grow with him. Owner Audrey Darrow, responding to the drive and passion that she saw, decided to take a chance on him as she had founded ESO as a way to help improve lives and bring enjoyment to others, regardless of the adversity faced. The week that they hired Tony, their resident chocolatier fell ill, eventually and sadly succumbing to cancer.
With zero hesitation and less than a week of training, Tony jumped in and tackled the immense responsibility of being the chocolatier for a rapidly growing gourmet chocolate company. "We took a chance on someone who was so down," remembers Audrey, "and what we have received from this choice has come back to us tenfold. Tony brings us joy, laughter, community, friendship, and commitment every single day."
Tony has come to embody the healthy living mission of Earth Source Organics and their certified organic, all-natural chocolate products in both his professional and personal life. He beat his struggle with addiction, becoming involved in mixed martial arts and focusing his energy into continuing the positive changes in his life. "I believe the universe brings people like Tony into our lives to teach us every day," she explains. "Sometimes the lessons are difficult, but it is amazing to see what each new day brings to us all." Today, Tony is a pillar of strength at ESO, a leader, and a dedicated chocolatier.
More About Righteously Raw Chocolates:
Righteously Raw is the gourmet chocolate brand of the certified organic food manufacturing company Earth Source Organics. Based in Southern California, this company is on a mission to provide organic and delicious foods to its customers to help them lead happy, healthy lives. For more information and to find Righteously Raw Chocolates near you, please visit http://www.righteouslyrawchocolate.com.
To learn more about Earth Source Organics' mission to improve lives, please contact Audrey Darrow at (760) 734-1867 or info(at)earthsourceorganics(dot)com.