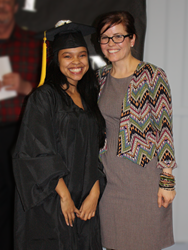 Knowing how to create community will serve you all your life.
Portland, OR (PRWEB) December 31, 2013
On December 20, eight young parents graduated from the last Pathfinder Academy class. Academy Director, Crystal Lebeda, congratulated the young parent graduates on their accomplishments saying, "You can be proud of the work you have done in reaching your goals. But more importantly, while you were here you created a community and knowing how to create community will serve you all your life."
The Pathfinder Academy was an accredited alternative school with a mission to provide a safe educational environment in which parenting youth could pursue autonomy and growth by prioritizing education, family and community. The Academy opened in 1999 and has served more than a 1000 young moms, dads, and children in its 14 years of operation. In addition to completing their GEDs, students learned about parenting, participated in community service, completed job training and laid the groundwork for pursuing post-secondary education.
According to the National Campaign to Prevent Teen Pregnancy, "Teen pregnancy is closely linked to poverty and single parenthood." The Pathfinder Academy gave its students the skills and support services to build healthy, productive lives. Through small group classes and individual tutoring, students were able to tailor individual programs to meet their specific needs.
Teens usually have to give up their own childhood when they become parents. Experiences many youth take for granted, such as camp, are no longer available to them. The Academy offered its students and their children the opportunity to participate in some of those experiences together. Through a partnership with the YWCA of Portland, a group of students and their children were able to attend Camp Westwind at the Oregon coast last summer. For many it was their first time at camp.
Partners were important to the Academy's success. In addition to the YWCA, the Academy partnered with the Pioneer Methodist Church in St. Johns, where its program was located. Church members strongly supported the Academy and many became surrogate grandparents for the students and their children.
Changes in Oregon's GED requirements made it difficult to continue to operate a small program. Pathfinders of Oregon decided to close the Academy with the graduation of its last group of students.
Pathfinders will continue to serve youth through its Rockwood Intercultural Student Experience (RISE) program in East Multnomah County. RISE is a youth violence prevention program focused on giving middle school students the skills and support needed to ensure that they will continue on to successfully complete high school.
About Pathfinders of Oregon
Pathfinders of Oregon is a 501(c) 3 organization whose mission is to break the cycle of criminality. Pathfinders has taught programs within the Oregon Department of Corrections for 20 years. In the community it offers programs to families impacted by incarceration through its Center for Family Success and RISE program.