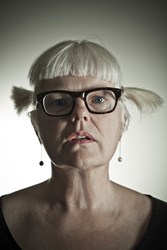 "Alicia is like a brand therapist..."
New York, NY (PRWEB) December 30, 2013
Be Creative Management (BCM) has signed brand strategist Alicia Johnson. Johnson has been leading entertainment and consumer brand turnarounds for over 20 years.
The CW recently tapped Johnson for brand strategy and naming of their new digital content platform, CW Seed. Launched earlier this year, the new digital "channel" is an incubator for new program content geared to mobile millennials.
Johnson's strategic leadership of the re-brand of Comedy Central repositioned them from being a tv "channel" into a media company. The rebrand was widely recognized for its innovation and cheek including gold from the Art Directors Club and a wall of gold from PromaxBDA.
"Alicia is like a brand therapist," BCM partner, Aaron King says, "Sometimes it's hard for clients to see the big picture when they're in the trenches. That's where Alicia is brilliant. She devours consumer research, is a dedicated student of the market, and asks questions that lead clients to think of their brand in new ways."
Johnson's deep agency experience gives her a unique perspective on the intersection of media, content and advertising. As the ECD for Euro RSCG (Havas) NY, she led a variety of consumer brands including the rebrand of Jaguar Cars as Global ECD for the automotive account. Her corporate wide brand turnaround moved the Jaguar brand from old, bald and boring to "Gorgeous," and helped invigorate lagging sales.
Johnson joins BCM's roster of creative agencies that includes Viewpoint Creative, SuperEstudio, Neo-Pangea, Fugitives Editorial, Canyon Design Group, and Edison Music.
About Alicia Johnson
Alicia Johnson serves as Partner at johnson + wolverton, a brand boutique based in New York. Johnson has been leading brand turnarounds for over 20 years. As Worldwide Creative Director at Euro/RSCG, she and her partner, Hal Wolverton, directed the widely recognized Jaguar Gorgeous brand turnaround. Johnson has created equally arresting work for clients including Lincoln, Chivas, MoMA, Cadillac, Moet, Comedy Central, Ritz and Dos Equis, among others.
http://www.becreativemgt.com/alicia-johnson/
About Be Creative Management
BCM is dedicated to brilliant communications for entertainment, media, advertising, and consumer brands worldwide. Based in New York and Los Angeles, BCM represents top creative agencies that transform strategy into engagement.