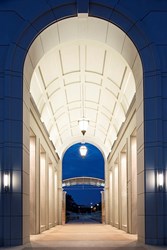 Marion and Clark Halls create a gateway to our developing residential community and connects the Worth Hills community to the Campus Commons. - Kathy Cavins-Tull, TCU Vice Chancellor for Student Affairs
Tulsa, OK (PRWEB) January 01, 2014
A new residence hall designed by KSQ Architects recently opened on the campus of Texas Christian University. Known as Marion and Clark Halls, the two-building residence hall offers 400 suite-style student beds designed for sophomores. Common areas, study lounges and baking kitchens are included to build community within the space. The buildings are LEED Gold certified.
A dramatic barrel-vault archway is the signature design element of the building, serving as both a figurative and literal connector to the surrounding TCU campus. Marion and Clark Halls is the first of three phases planned for the Worth Hills Village development, which will eventually include a third residence hall, a parking structure, a dining/multipurpose building and Greek Village. In total, the development will house 1,800 students.
"We are so pleased to offer our students another beautiful place to call home on the TCU campus," said Kathy Cavins-Tull, TCU Vice Chancellor for Student Affairs. "Marion and Clark Halls create a gateway to our developing residential community and connects the Worth Hills community to the Campus Commons. It is the result of effective planning and programming, brilliant architectural design and quality construction."
KSQ Architects has provided architectural services for more than 16 new or renovated residence halls on the TCU campus since 1995. To date, the number of student beds provided in these projects is more than 3,000.
Marion and Clark Halls employ the existing TCU palette of building materials, including buff-colored brick, Ludowici tile roof and limestone accents. For the interior, wood-look floors, porcelain tile accents, granite counters and a youthful color palette keep it fresh yet sophisticated for student living.
"Our team is extremely proud of the work we provided on Marion-Clark Halls," said David Short, KSQ principal and president. "We listened to what the TCU team wanted to achieve and that comes through in the design. The halls are a perfect blend of beauty and functionality for how students live today," he said.
ABOUT KSQ ARCHITECTS
With offices in offices in Colorado, New York, Oklahoma, and Texas, KSQ Architects is a full-service architectural firm providing programming, planning, architectural and interior design services. The firm specializes in collegiate life, K-12 and multi-family housing facilities throughout the United States. A hands-on, environmentally sensitive approach is fundamental to each KSQ project, and ensures a rare level of personalized attention and sustainable methodology. KSQ has completed projects nationwide on more than 50 campuses totaling $1 billion in construction. For more information, contact Monica Roberts, Communications Manager, 918-592-0622 or mroberts(at)ksqarchitects(dot)com.
###