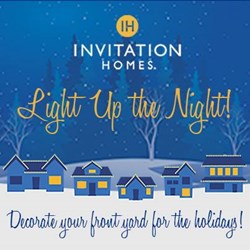 Dallas, Texas (PRWEB) December 31, 2013
Invitation Homes, the nation's leading provider of high-quality rental homes, is inviting its residents to decorate their houses for the holidays and share the results with others.
Residents participating in "Light Up the Night" will decorate their homes and front yards in bright lights and holiday splendor, then take a picture or short video of the decorations. When they share the photo or video on the Invitation Homes Facebook page, they can get "bragging rights" if their decorations outshine the rest.
About Invitation Homes
Founded in 2012, Invitation Homes leases single family homes in 14 regions across the country. Since it began, Invitation Homes has purchased more than 30,000 houses, making it the leader among single-family homes for rent companies in the U.S. Based in Dallas, Texas, Invitation Homes offers a high-quality rental experience that includes professional property management, 24/7 emergency maintenance, an online portal for rent payment and a friendly policy toward pets. For more information, visit http://www.ihrent.com.