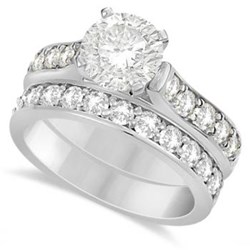 Allurez.com is expanding its online jewelry inventory to better meet its customers needs.
New York, New York (PRWEB) December 31, 2013
Although a number of retailers fell short of their holiday sales goals, at least one category sparkled with strong Christmas sales for both online and brick & mortar jewelry stores. According to JCK* some of the jewelers they contacted logged double-digit sales increases and showed a renewed interest in big-ticket sales. In addition they reported** that the jewelry, luxury goods, and accessories category was one of the most visited online sites in November of 2013.
Raphi Mahgereft, a jewelry expert at Allurez, a New York based jewelry designer and retailer said, "we have been very fortunate this year with increased sales almost across the board. We've reached an entirely new market of shoppers with our design your own engagement rings and are in the midst of a major expansion of our bridal accessories and proposal rings section with the introduction of preset bridal jewelry."
As many consumers continue to be a bit jittery regarding the economy, analysts are mixed on the upcoming years financial status, but jewelers are getting ready for their next gift-giving push, Valentine's day. Mr. Mahgereft continued, "We will be expanding our complete jewelry inventory with a special interest in alternative bridal jewelry including moissanite rings, earrings and pendants. Our designers are working overtime to continue offering our selective a complete expansion of our gemstone and anniversary jewelry collections. We are optimistic that 2014 jewelry sales will continue to exceed our expectations."
Based in New York City and serving customers around the globe, Allurez Jewelers is a rising star in the field of luxury ecommerce. Allurez was recently ranked as the number one online-only jewelry retailer by TopTenReviews.com, and placed in the top three retailers overall. Their team of veteran jewelers specializes in all fine jewelry, including engagement rings, gemstone pendants, and other spectacular contemporary jewelry. Visit them online at Allurez.com.

**http://www.jckonline.com/2013/12/26/traffic-to-jewelry-e-tailers-jumps-23-percent?utm_source=JCK+eNewsletters&utm_campaign=434e3c70e4-2013_12_26_Your_Store_Thursday&utm_medium=email&utm_term=0_56301e74d4-434e3c70e4-333963941 JCK News/December 26, 2013