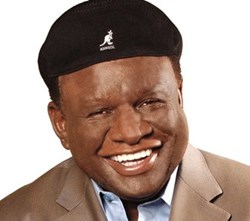 Laughter is the best medicine!
Atlanta, GA (PRWEB) December 30, 2013
Hillside International Truth Center's iconic "Burning Bowl" and "Letters to God" service on New Year's Eve has become an Atlanta tradition. This year, those in attendance will be treated to a time of healing through laughter with comedian George Wallace following the lesson/sermon presented by Hillside's founder minister/world spiritual leader, Dr. Barbara L. King. The event is free and open to all.
Dr. King and George Wallace have been friends for several years. Wallace, who's nightly engagement at the Flamingo in Las Vegas, entertained at Dr. King's birthday celebration in 2011 and had people rolling in the aisles.
Hillside's "Burning Bowl" and "Letters to God" - staples in Hillside's New Year's Eve - are tools to help people cleanse their consciousness of old, worn-out thoughts and beliefs so they can bring focus and clarity to achieving the good desires of their heart.
New Year's Eve attendees are asked to make a list of statements representing the thoughts and beliefs that have kept them in bondage to circumstances and conditions and then toss it into the flames of the "Burning Bowl" - symbolic of the old "stuff" being gone from their life for good.
"Letters to God" are written statements representing the good you desire in the coming year along with statements of what you will do to stay on purpose to accomplish them. The writer puts the "letter" in a self-addressed, stamped envelope and places it in a prayer box in the Sanctuary. The letters are mailed back at Thanksgiving time next year.
Hillside International Truth Center, Inc. - Dr. Barbara King - is a New Thought institution dedicated to transforming and healing lives by demonstrating the teachings of Jesus for over 42 years. Hillside is open to all people regardless of religious affiliation, age, race, gender, sexual preference, or any other label. Hillside's famous 1200-seat Sanctuary-In-the-Round is located at 2450 Cascade Rd. SW, Atlanta, GA 30311. Telephone: 404-758-6811; Email: info(at)hillsidechapel(dot)org