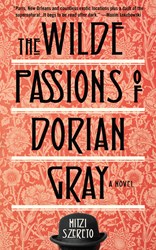 "The fascinating tale of Dorian Gray continues in this creatively styled tale of sin and redemption. Ms. Szereto's unique writing style brings a sense of the everyday man to the supernatural figure of Dorian Gray."—Coffee Time Romance
(PRWEB) January 02, 2014
Bursting with innovative and thoughtfully written prose that challenges Oscar Wilde's original work, Szereto's imaginative take on the very much alive afterlife of Dorian Gray supplements his main character with the spice and raunchiness that Wilde couldn't include one hundred years ago. Readers awaken with Dorian Gray as he continues to live passionately and daringly in Mitzi Szereto's The Wilde Passions of Dorian Gray: A Novel. Because of his corrupt and hedonistic ways, Dorian often finds himself in the midst of chaos, and though he is thrilled by the experiences that leave others in peril, he is ultimately brought face-to-face with the return of his long-lost humanity. Author Lucy Taylor proclaims, "Gray's hedonistic adventures take him from Paris to Marrakesh and beyond as he explores increasingly extreme and inventive debaucheries. Sizzling erotica that would make Oscar Wilde blush!"
Fans relish the idea of bringing Dorian's sexual fantasies into fruition as he seduces the skirts (and pants!) off of his lovers. Szereto's compelling story provides readers with "adventurous sex[…] and countless exotic locations plus a dash of the supernatural," says Author Maxim Jacubowski, adding that WILDE PASSIONS OF DORIAN GRAY "touches all my buttons and begs to be read after dark." Mitzi Szereto's book takes us out of Dorian Gray's portrait and into his bedchambers (and, often, the bedchambers of others). This book is sure to please the kinky-of-mind while also satisfying those who have an appreciation for literature.
"Mitzi Szereto writes this compelling story with poetic fluency. Wilde Passions of Dorian Gray is a hedonistic rush that doesn't shy away from the darker side of passion. I loved it!"
—Sam Stone, author of The Vampire Gene series
About the Author
Mitzi Szereto is an author and editor of erotic fiction, multi-genre fiction, and non-fiction anthologies. Her blog "Errant Ramblings: Mitzi Szereto's Weblog" (mitziszereto.com/blog) and Web TV channel "Mitzi TV" (mitziszereto.com/tv) cover London's quirky side. Mitzi has pioneered erotic writing workshops in the UK and Europe and lectured on creative writing at several British universities. Her books include In Sleeping Beauty's Bed: Erotic Fairy Tales, The New Black Lace Book of Women's Sexual Fantasies, and Wicked: Sexy Tales of Legendary Lovers. Mitzi's novel Pride and Prejudice: Hidden Lusts, a classic novel turned controversial sex parody, earned her rave reviews that demand a sequel.
The Wilde Passions of Dorian Gray
A Novel
By Mitzi Szereto
$15.95, Trade Paper
240 pages, 5" x 8"
ISBN: 978-1-57344-965-6