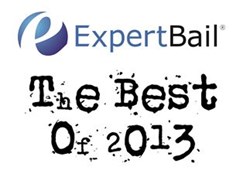 With the ExpertBail daily blog post, we have given people a reason to visit us and learn about bail.
Calabasas, California (PRWEB) December 31, 2013
Getting people interested in a bail bond brand is not the easiest task in the world, but for the team at ExpertBail it is what they do each and every day. As the nation's only national brand in the bail bond industry, ExpertBail is changing the way that people both perceive and understand the bail bond industry. One of the tools that this innovative group uses is it daily bail bond blog. With stories ranging from a list of the most dangerous cities in America to someone getting arrested for bragging on Facebook about a crime they committed, ExpertBail provides blogs that are both interesting and entertaining.
"Most people you talk to probably would not want to spend time on a bail bond website unless they had to," says ExpertBail's Managing Director, Eric Granof. "With the ExpertBail daily blog post, we have given people a reason to visit us and learn about bail. By providing them with interesting and many times hilarious content, we have been able to lower their guard and engage them in a way that exposes them to our brand in a positive and inviting way."
The ExpertBail site averages approximately 43,000 visitors a month, with its most successful month being this December where the site experienced over 175,000 visitors. Granof attributes much of this traffic to the blog posts. "Since we started the daily bail bond blog posts almost two years ago, we have seen a significant upward trend in traffic and content engagement on the site…and for a relatively new national brand in a category that has a less than stellar image that is extremely encouraging news. Below is a list of ExpertBail's top ten bail bond blog posts for 2013. The list has been compiled using "share" data generated by each blog post. You can view and read each blog post, by clicking on the following link: Top Ten Bail bond Blog Posts for 2013. The blogs to make the "best of" list are below.
#10 – Bail Bonds and Babies: The Dark Underbelly of Baby Fight Club
#9 – Bail Bonds and Big Buildings: New Church Design Gets a Rise out of Community
#8 – Bad Girl, Drunk Girl, Dumb Girl…A Tweet to Remember
#7 – Most Dangerous Neighborhoods in America
#6 – Bail Bonds and Booties: Can Baby Have Too Much Back
#5 – Bail Bonds and Boneheads: Pre-Crime Selfie Sabotage
#4 – Silly and Six: Is a Six Year Old capable of Sexual Harassment
#3 – Bail Bonds and Barbers: Woman Barber Takes a Little Too Much Off the Top
#2 – Instagram for Felons: Psst…Everyone can See That
#1 – Shoplifting Selfie: Slip-ups and Facebook Confessions
To view more bail bond blog posts visit http://www.expertbail.com/resources/expertbail-blog
About ExpertBail
ExpertBail is the bail bond industry's first true national bail bond network. Comprised of the most experienced and highest quality bail agents in the industry, ExpertBail helps consumers reduce the clutter in the bail marketplace and directs them towards a trusted, proven and experienced bail agent in a simple and transparent way. ExpertBail is backed by AIA, the oldest and largest family of bail bond insurance companies. With over 150 years of stability, trust and knowledge behind every bond written in the ExpertBail Network, its focus is on the consumer and helping them through a difficult time. The mission of ExpertBail and its network of agents is not only to meet the expectations of customers, but to exceed them substantially.
About AIA
The AIA Family of Companies has been partnering with agents across the country for over a century. Formed in 2003 as an alliance of the surety bail industry's leading companies Allegheny Casualty, International Fidelity and Associated Bond, AIA utilizes a unique "service-focused" approach to management that provides its family of agents with the knowledge, tools and commitment they need to grow their business and succeed. AIA has become the overwhelming industry leader in agent service, national coverage, bail written and number of agents.