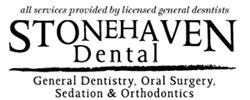 Salt Lake City, Utah (PRWEB) December 30, 2013
The Stonehaven Dental offices in Utah are beginning to embrace a new patient referral plan, one that will enable both ends to have equally beneficial results. When patients refer their family and friends to Stonehaven, they embrace the opportunity to save money on their next visit to one of the four friendly and professional locations that Stonehaven expertly maintains. In addition, the new patients that have been referred to Stonehaven also receive the chance to save money on their up and coming procedures, eliminating the often top heavy bill that usually accompanies new patients in their transition to a new dental practice. This mutually beneficial win-win opportunity that demonstrates the ultimate allegiance to the overall wellbeing of patients is part of what makes Stonehaven one of the best and most dedicated dentists in Salt Lake City.
With a referral plan that will benefit both new and returning patients, the time to make the change to Stonehaven is now. They are not only affordable dentists in Salt Lake City but also have the unique advantage of utilizing cutting edge and modern techniques, inspiring the confidence and trust of their patients and clients. By considering all aspects of their patients' lifestyles, such as time and financial situations, Stonehaven continually proves their care and concern for their patients. The use of new patient forms that are accessible online and methods like sedation dentistry combat the annoyance, frustration, or even fear that patients often experience upon entering a dental office or undergoing any given procedure. Having taken such measures to ensure both the emotional and physical safety of their patients, Stonehaven is considered one of the most influential and noteworthy dental offices in the state.
With sedation techniques to eradicate fear, patient forms online to eliminate wasting time, and a referral plan to increase savings for both new and returning clients, it is painstakingly clear that Stonehaven is willing to do anything it takes to properly meet their patients' needs and wants. In addition, their affordable pricing is always a plus for patients of any financial situation. For more information, visit their website at http://stonehavendental.com/.