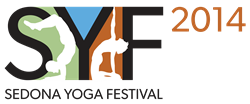 Wow. After a blessed weekend at the Sedona Yoga Festival, I am happy to say my personal yoga practice and my teaching mission are infused with new information, new enthusiasm, and a renewed dedication to my spiritual practice. -MiraBai F.
Sedona, AZ (PRWEB) January 31, 2014
The Sedona Yoga Festival, in its second year, is billed as a consciousness evolution conference, and offers yoga, meditation, Kirtan, and a host of other offerings. The Sedona Yoga Festival is proud to partner with Give Back Yoga, The Southwest Institute of Healing Arts, and StudioLiveTV.
The 108 yoga classes and workshops include Acro & Slackline Yoga, The Business of Yoga, Using Ancient Ayurveda, Qi Gong, Chakra work, and photography. The presenters include Suzanne Bryant, Robert Sturman, Mark & Heather Titus, Beryl Bender Birch, Mark Whitwell, and Rob Schware, just to name a few.
StudioLiveTV will be live streaming the World Peace Meditation on Sunday, February 9th at 1PM MST. This meditation will be available wherever there is internet access. Register here.
Along with the teacher training, workshops and lectures, The Sedona Yoga Festival will have a variety of vendors and local artisans on hand, sure to please the most discriminating shopper.
Sedona Yoga Festival and The Give Back Yoga Foundation, in association with The Southwest Institute of Healing Arts, are offering a 2 day pre-conference teacher training which focuses on Mindful Therapeutic Yoga Practices for Veterans. A must for yoga teachers who want to further their practice. The training will provide tools and practices to help veterans dealing with issues such as Post-Traumatic Stress Syndrome (PTSS).
Continuing Education Credits are available.
The Southwest Institute of Healing Arts is a nationally accredited (ACCET) private college and community-healing center for Holistic Healthcare careers and continuing education. Their mission is to help people discover their gifts and support them as they share their talents.
StudioLiveTV will have a pop up film room offering yoga teachers an opportunity to film a class that will showcase their unique style and method. These classes will be hosted on a private labeled channel. There is a nominal fee for this service.
The Sedona Yoga Festival promises to be a unique opportunity to experience energy, consciousness, healing, and transformation through yoga and other forms of consciousness studies.
StudioLiveTV offers a variety of classes, workshops and seminars from all over the world. From on-demand lectures to live-streaming classes, StudioLiveTV brings the best fitness, yoga and wellness professionals together online. Studios and instructors now have an additional way to grow their membership community.