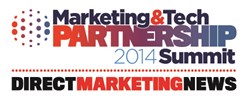 New York, NY (PRWEB) January 13, 2014
Direct Marketing News has announced that Bruce Biegel, group senior managing director at Winterberry, will be a keynote presenter at the 2014 Marketing&Tech Partnership Summit, to be held on January 28 in New York. The Summit is dedicated to exploring ways in which marketers can collaborate with their technology colleagues—whether in IT, data web operations, mobile, etc.—to enhance marketing performance.
Biegel, who leads Winterberry Group's consulting practice and establishes its strategic and operational agenda, will examine the realities of where data responsibility should lie, the trends influencing those realities, and how marketing and tech leaders should partner to get their most from customer data
Other MTPS speakers include:

Bonin Bough, VP of global media and consumer engagement for Mondelez International, will explore how the hackonomy is changing marketing, and why marketers must embrace this change to better work with their technology colleagues and partners.
Huge CEO Aaron Shapiro will explain how marketers can evolve to meet the pressures of the rapidly evolving digital economy.
Cal Crouch, head of digital marketing and e-commerce, and Jon Vandergrift, eCommerce manager at Timex, will discuss how the company's marketing and IT teams collaborate to create and deliver a timeless brand experience for customers worldwide.
Veeral Rathod, cofounder of J.Hilburn, reveals how the brand's marketing and technology teams collaborated to create a profitable online and mobile experience.
Jeff Mirman, VP of marketing, and Pete Scott, VP of Emerging Media for Turner Sports, will discuss how marketing and technology are forever changing the way that sports fans connect with the game.
Tom Wyland of AOL Paid Services will reveal the steps his team took to turn a potential pitfall into a data platform that can be leveraged across all of AOL.
View the full agenda and speaker list here.
The Marketing&Tech Partnership Summit is a must-attend event for any marketing leader looking to harness the power of technology to enhance their marketing results.
For more information, contact Nicole Marshall at nicole (dot) marshall (at) dmnews.com, (646) 638-6059,.
For sponsorship information, contact Greg Zalka at greg (dot) zalka (at) dmnews.com or 646-638-6027
About Direct Marketing News
Direct Marketing News is the go-to resource for marketers seeking to keep on top of the latest industry news, hottest strategies across multiple channels, and best tactics to propel marketing ROI. DMN's audience is an audited based of more than 150,000 senior marketing professionals.