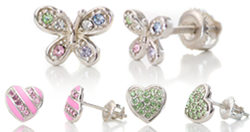 I was determined to make the best, kid-friendly jewelry that is safe as it is fashionable for my little princess
New York (PRWEB) January 01, 2014
There is nothing worse than losing an earring. Everyone is familiar with that feeling of dread that creeps up when an earring has slipped out of place. But the problem is even worse for little girls with an active lifestyle. While they're climbing around on the playground or tumbling at gymnastics it is easy for an earring to slip out, making kids jewelry simply unrealistic. Searching for misplaced or lost kids jewelry is quite a hassle and constantly having to replace lost kids earrings is expensive.
Luckily, premier children's jewelry company Chanteur Designs' offers screw back earrings for active girls, the perfect kids jewelry option. Founded by Alexander Singer, a father who was frustrated with poor quality children's jewelry on the market for young girls, the company offers kids earrings and kids jewelry that is highly durable and incredibly fashionable.
The company's screw back models are the epitome of durable, ensuring that earrings stay snug and secure throughout the day of even the most active girl. Whether she is doing splits at tumbling practice or going hard at a soccer game the earrings will always stay in place. No more sifting through the grass or searching through the laundry to find that elusive missing earrings. Chanteur Designs' screw back kids earrings are the perfect option for girls on the move.
The screw back kids earrings offered by Chanteur Designs are not only incredibly durable, able to withstand the rough and tumble activities of every little girl, they are also incredibly safe. Toytestinglab, a laboratory accredited by the Consumer Product Safety Commission, carefully tests each and every earring in order to ensure that the highest quality standards are upheld. Singer explains, "I was determined to make the best, kid-friendly jewelry that is safe as it is fashionable for my little princess."
Like all Chanteur Designs pieces, the company's screw back earrings are available in a wide variety of different styles. Chanteur Designs offers four unique collections in total: the Swarovski Elements Collection, the Swarovski Enamel Collection, the CZ Collection and the CZ Enamel Collection. Plating options include yellow gold, white gold, and sterling silver.
Visit http://www.chanteurdesigns.com to learn more about Chanteur Designs and their durable designs for girl's earrings.
About Chanteur Designs
Founded in 2012 by Alexander Singer, Chanteur Designs has grown exceptionally in the last year. Singer was inspired to create a high-quality line of children's jewelry after shopping for his own daughter. He felt continuously frustrated with the limited options and poor quality of children's jewelry on the market. Convinced that his daughter deserved the best, he set out to design well crafted, high-quality, and age-appropriate children's jewelry, including kid's earrings and kid's bracelets. With world-renowned crystal vendor Swarovski Element's as a branding partner, Chanteur Designs now offers premium children's jewelry across the globe.