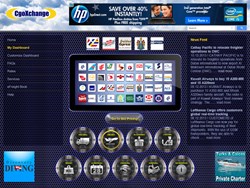 The world is going (has gone) digital.
Palo Alto, CA (PRWEB) December 31, 2013
CgoXchange launches as a digital portal to air cargo suppliers and applications in regional markets surrounding Seattle-Tacoma International Airport, San Francisco International Airport and Los Angeles International Airport in early 2014. Sirius Business Solutions, Inc. and Quick Caller® Air Cargo Directories have combined forces to launch CgoXchange in SEA, SFO and LAX.
Users select dashboard buttons and applications in CgoXchange's Library and determine where launching icons are to appear on a customized desktop dashboard display. This is similar to arranging icons on a smart phone. CgoXchange will also have a mobile version.
CgoXchange now seeks air cargo suppliers, related suppliers and applications to feature in the regional portals. CgoXchange will launch completely free of charge in SEA, SFO and LAX. Neither users nor suppliers will pay to connect with the other.
CgoXchange is a digital community for air cargo. Suppliers of air cargo and air cargo related products and services are encouraged to participate in CgoXchange as part of their digital distribution plan.
Sirius Business' Craig Ruess says that CgoXchange offers air cargo and air cargo related suppliers an easy and effective way to be found by buyers and users. The easier it is to find a vendor the more likely it is that vendor will be used. And, the world is going (has gone) digital.
Interested suppliers and related suppliers to air cargo markets supporting SEA, SFO and LAX may send inquiries to Assistance(at)CgoXchange(dot)com or call (650) 321-4229.